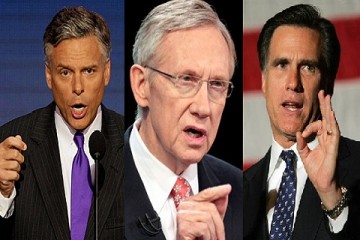 This isn't about whether any candidate is qualified for office or not, we'll save that topic for future articles.  However, with the recent news coverage of former governor of Utah, John Huntsman Jr.,  and his statements regarding his faith (or lack thereof), this is a topic of Mormon interest.
In a recent article for TIME, Melinda Henneberger asked the former governor if he "…still belongs to the Church of Latter-day Saints", to which she received the veiled response: "I'm a very spiritual person" (as opposed to a religious one?), "and proud of my Mormon roots."
The columnist saw the vagueness of the answer and asked: "Roots? That makes it sound as if you're not a member anymore. Are you?"
Former Governor Huntsman's reply was extremely revealing in its non-committal nature, "That's tough to define," he said. "There are varying degrees. I come from a long line of saloon keepers and proselytizers, and I draw from both sides."
It's tough to define whether he is a member or not?  I thought it was kind of like being pregnant; either you are, or you're not. Beliefs may vary, activeness may vary, but membership in the Church of Jesus Christ of Latter-day Saints is pretty black and white.
Huntsman is not the only former governor to have trouble standing up for the tenets of the Gospel.  In this interview, 2008 presidential candidate Mitt Romney was asked how he would handle it if God were to speak to him or to "[his] prophet" and tell him to do something "in conflict with [his] duties as president".  Candidate Romney responded, "I don't know that He's spoken to anyone since, ah, Moses and the bush, or perhaps some others."
He doesn't know if God has spoken to anyone since Moses or PERHAPS others??
OK, this basically leaves two options available:
1. He is telling the truth and doesn't know much about the religion he professes to be a part of.
OR
2. He is too afraid to admit that he believes the Gospel.
I am no partisan, but our Mormon Democrats are not free of this kind of problem either.
When speaking at BYU, In October of 2007, Nevada Senator, Harry Reid, had this to say about teachings of the Prophets in regards to agency and government welfare: "[T]hese people have taken members of the church down the path that is the wrong path."
He is also well known for his opposition to the Church's stance on California proposition 8.
Often people express concern that Mormon politicians will be nothing but puppets of the Prophet, to which I say, "I wish"!  We long for the day when Mormons in the public spotlight can follow the example of Joseph F. Smith, and when questioned on any aspect of the restored Gospel, will stand up and say: "Yes siree; dyed in the wool; true blue, through and through."