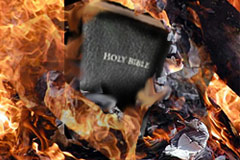 What is a sacred cow?  My definition is anything that is believed based only on tradition, and has little to zero basis on actual fact. These beliefs are held so strongly that the "worshiper" declares "blasphemy!" to anyone that challenges said belief.
Sacred Cow #3: Expiration Date On Words Of Prophets?
In 1980 Ezra Taft Benson gave the oft quoted talk "Fourteen Fundamentals of Following the Prophet" wherein he states:
"The living prophet is more important to us than a dead prophet."
Clearly the living oracle of the Lord is going to be able to give us the most relevant information that the people of God will need to hear at any given moment in time.  Clearly, there is no need for us to prepare for a worldwide flood by building an ark any more than there was a need for Noah's family to be worried about internet predators.
However, many members of the Church have used this principle to put a metaphorical "expiration date" on the words of the Lord through His Prophet, making the assertion that if the current Prophet doesn't speak about a certain topic, it is automatically void, or of little to no importance.
This is dangerous reasoning indeed.  Taken to its logical conclusion, this would lead one to seal their scriptures until particular verses were quoted by the "living" prophet as if eternal principles are only eternal until the one that said it dies. It would be impossible to know for ourselves what is right and what is wrong and, like the Christianity of the dark-ages, we would be dependent on others to read and interpret the scriptures for us.  Personal scripture study would be tantamount to apostasy and the Conference issue of the Ensign would have but a six month shelf life before it became "false doctrine".
Is God not the same today, yesterday and forever? (Mormon 9:9)
Does the Lord go against what He has said? (Doctrine and Covenants 3:2)
What about those that teach a different Gospel other than that taught by the Prophets? (Galatians 1:8)
Will the principle of the Atonement be any less important if a particular Church President doesn't emphasize it as much as another?
Where is the line in this logic?  Is everything up for grabs after the death of a Prophet?  Why the need for the scriptures at all?  Why not just throw away anything written before the last General Conference?
Principles and practices are two completely different things. Agency, repentance, love, and the Atonement are all examples of principles that cannot change no matter who the Prophet is.  Can you imagine the Prophet saying that repentance was now false doctrine?
What we must do to avoid the pitfalls of the world will change on a regular basis, as societies and cultures change, and the "living" prophet will be a much better guide in those things than a dead one any day of the week.
When anyone attempts to say that the principles taught by "dead" prophets are no longer true, or relevant, you know that the Lord says they are "accursed" (Galatians 1:8).