I'm willing to bet that when you read that, a majority of you had one of two responses: 1) "Of course we do!" or 2) "Heck no we don't!"
Unfortunately, on my mission, the general response of the other missionaries was the latter. They avoided talking about polygamy like the plague. It was treated like a skeleton in the closet. You don't talk about it, you don't think about it, and hopefully nobody finds it. There was even one district meeting where we role-played what our response would be to investigators who brought it up. This post is directed mainly at those who responded to the title the same way. Before you give that response again, there are a few things you should think about.
Polygamy in Church Leadership
With the recent passing of President Monson and the reorganization of the First Presidency, this is the first time since Joseph Fielding Smith's presidency in the early 1970s that at least two of the men in the First Presidency have been polygamists.
Yes, you read that right. Two of the men in the current First Presidency are polygamists: Russell M. Nelson (1) and Dallin H. Oaks (2). Heck, for that matter, Henry B. Eyring's grandfather was a polygamist too (3). On a side not, President Oaks is 15 years older than his second wife, and when President Nelson's second wife was born, he (Nelson) had already been married to his first wife for 5 years. So, before you start talking about how a big age gap in marriage is weird, remember that the man whom you revere as a Prophet, Seer, and Revelator is 25 years older than his current spouse.
This means that 12 of the 17 men who have been President of the Church of Jesus Christ of Latter-day Saints are married to multiple women. They are Joseph Smith, Brigham Young, John Taylor, Wilford Woodruff, Lorenzo Snow, Joseph F. Smith, Heber J. Grant, Joseph Fielding Smith, Harold B. Lee, Ezra Taft Benson (4), Howard W. Hunter, and now Russell M. Nelson. In fact, when the doctrine was first taught to and practiced by one of its members around 1840, there has been at least one polygamist in the Quorum of the Twelve Apostles ever since. I bet you hadn't thought of that.
Besides the fact that the leadership of the church apparently practices plural marriage, D&C 132 is still canonized scripture. So, when we say that we believe the Doctrine and Covenants to be the word of the Lord, we are saying that we believe in polygamy. There is no way around it.
Joseph Smith's Teachings
Joseph Smith gave us a key in understanding the things of God.
"Every principle proceeding from God is eternal and any principle which is not eternal is of the devil." – Teachings of the Prophet Joseph Smith, pg 181
He further taught, on several occasions, that plural marriage was from God.
"It [polygamy] is the work of God and he has revealed this principle." – The Complete Discourses of Brigham Young 4:2382

"He [Joseph] said that years ago in Kirtland, the Lord had revealed to him the ancient order of plural marriage." – Benjamin F. Johnson letter to George F. Gibbs, 1903

"He [Joseph] informed me that the doctrine and principle [of plural marriage] was right in the sight of our Heavenly Father, and that it was a doctrine which pertained to celestial order and glory." – William Clayton affidavit, 1874 (Found in An Intimate Chronicle: The Journals of William Clayton, pg 557)
If A = B and B = C then A = C. Likewise, if every principle from God is eternal and plural marriage is from God then plural marriage is an eternal principle. From this, we can understand that plural marriage can never really go away. The practice of it may "discontinue" (even though it hasn't, i.e. Nelson, Oaks, etc) but the belief in it cannot truly be abandoned, at least not by those calling themselves disciples of Jesus Christ.
Being in the Society of Polygamists
There is more though. We learn from the scriptures that Abraham, Isaac, and Jacob are polygamists. We learn that these men are the ones who worshiped the one true God. We learn that it will be an honor to sit down with these polygamists in heaven. We learn that the gates surrounding the New Jerusalem will have inscribed on it names of men who are the sons of a polygamist. We also learn that in order to get into heaven we must be a part of or adopted into the family of Israel, a polygamist.
From the sounds of it, being anti-polygamy is not going to be very comfortable in heaven. Furthermore, our Lord and Savior Jesus Christ made a very interesting promise in the 19th chapter of Matthew. Take it how you will.
"And every one that hath forsaken houses, or brethren, or sisters, or father, or mother, or wife, or children, or lands, for my name's sake, shall receive an hundredfold, and shall inherit everlasting life." – Matthew 19:29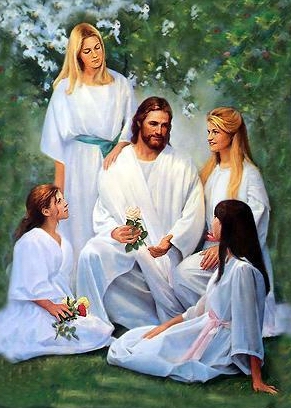 Polygamy and Feminism
Currently, there are efforts from both inside and outside the church to get rid of polygamy. Take these two Twitter posts, for example.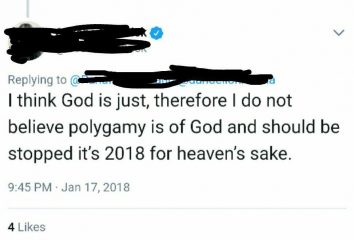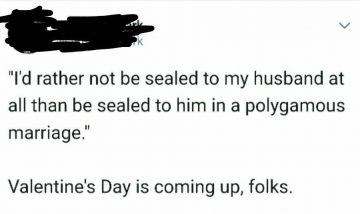 The first post is speaking ill of the Lord's anointed by clearly calling the Prophet Joseph Smith a liar. I also wonder which wife they would tell President Nelson to get rid of. The second post is kind of an insult to the husband, don't you think? It's basically saying, "If we had to live polygamy… yeah… you wouldn't be worth it. Sorry." However, as the scriptures teach and as the future will show, these people's attempts to hinder the things of God will only result in their own damnation.
A large portion of those taking this route to eradicate polygamy are the so-called feminists. I say, "so-called" because they are not real feminists. Real feminism, true feminism, like any other true philosophy or ism, has its roots in the gospel of Jesus Christ and the patriarchal order that has been established by God. If feminists were true to their word, if they really wanted "women's rights" and "choice" like they claim, they would be doing the complete opposite of what they are doing. They would be calling for and advocating for the return and practice of plural marriage. What greater right is there for a woman than to be able to marry the man she wants to marry whether he already has 1, 2, or 10 wives? What greater act of sisterhood can there be than for one woman to say to another, "I know you are looking for a good man to be your husband and the father of your children. I know that in this day and age good men are hard to come by. I want you to have the same happiness that I enjoy. I know that my husband is a Godly man. Come, I will give of myself. Let the man of my heart take you into his arms. He can be your husband and you can be my sister-wife."
Conclusion
Mormons believe in polygamy. To say we don't is to say we reject the scriptures, the teachings of every prophet in this dispensation, the current practices of the church, and even the words of the Lord Himself. How could we call ourselves Latter-day Saints at that point? We couldn't. A belief in polygamy is part of being a Mormon.
References
(1) Bio on LDS.org
(2) Bio on LDS.org
(3) Numerous sources. Click here for more info.
(4) Ezra Taft Benson, Diary, April 25, 1950.