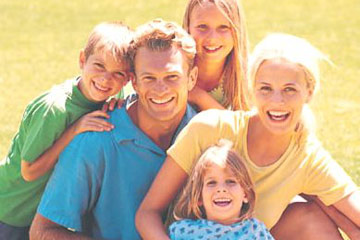 Temporal, spiritual, and eternal liberty and the blessings of a righteous posterity are inseparably linked. Are you enslaving yourself?
Happiness, that is true joy, is something that all of Heavenly Father's children desire to have. The Psalmist says that "Happy is the man that hath his quiver full of them" (Psalms 127:5). What is a quiver and what do we need to fill it with to bring us that happiness?
When we read the context, of course, more understanding is opened up to us. King Solomon writes, "Lo, children are an heritage of the LORD: and the fruit of the womb is his reward. As arrows are in the hand of a mighty man; so are children of the youth. Happy is the man that hath his quiver full of them." (Psalms 137:3–5) A quiver is a case for holding or carrying arrows. It was used as a metaphor to point out the fact that when one fills up their life with children, which are "an heritage of the Lord", true happiness follows.
Children are such an essential part of our joy in life, as well as a crucial part of the plan of salvation, that bringing them into the world was the very first commandment given to our first parents in the Garden of Eden. God said to them "Be fruitful, and multiply" (Gen 1:22). After a few other instructions, God again reiterated His first commandment and said "Be fruitful, and multiply, and replenish the earth." (Gen 1:28)
Modern Prophets have declared that "God's commandment for His children to multiply and replenish the earth remains in force". (The Family: A Proclamation to the World, The First Presidency)
Sadly, there are many Latter-day Saints that purposefully limit their joy and, perhaps unknowingly, break that first commandment. How do they break this commandment? Elder Hugh B. Brown explains, "The problem of birth control and voluntary barrenness is poisoning the very fountains of life and defying God's injunction to multiply and replenish the earth." (The Abundant Life, p. 244)
In addition to limiting their own joy, this practice can have impacts on souls other than the husband and wife. In General Conference of October 1941, the Prophet David O. McKay said "To warn of a great danger I must speak of it more specifically. I do so most reverently. If it shall please the Lord to send to your home a goodly number of children, I hope, I pray, you will not deny them entrance. If you should, it would cause you infinite sorrow and remorse. One has said that he could wish his worst enemy no more hell than this, that in the life to come someone might approach him and say, 'I might have come down into the land of America and done good beyond computation, but if I came at all I had to come through your home and you were not man enough or women enough to receive me. You broke down the frail footway on which I must cross and then you thought you had done a clever thing.'"
The Prophet Brigham Young also spoke of those that might be damaged by the purposeful postponing or hindering of bringing children into this world when he said "There are multitudes of pure and holy spirits waiting to take tabernacles, now what is our duty? To prepare tabernacles for them; to take a course that will not tend to drive those spirits into the families of the wicked, where they will be trained in wickedness, debauchery, and every species of crime. It is the duty of every righteous man and woman to prepare tabernacles for all the spirits they can." (September 21, 1856). Ezra Taft Benson, Bruce R. McConkie, Stephen L. Richards, Joseph Fielding Smith, and Gordon B. Hinckley all quoted President Young's above remarks when speaking on this sacred subject. The scriptures that teach "out of the mouth of two or three witnesses shall the word be established" are unquestionably fulfilled here.
So not only are we damning our own happiness when we deny children from coming to our families, we are also putting the salvation of others in jeopardy. Birth control is not a "victimless crime".
Produced with some help from BYU, the movie, "Demographic Winter", helps us to understand other consequences from disobedience to this principle. You can watch the movie here.
Sometimes it is said that "Yes it is good to have children, but we have felt it important to postpone that until after we have finished school, or purchased a big enough home, or gotten out of debt, or gotten a job that pays sufficient, etc, etc, etc." Prophets of God have helped us to understand the misery that we can avoid by not heeding this logic.
"The world teaches birth control. Tragically, many of our sisters subscribe to its pills and practices when they could easily provide earthly tabernacles for more of our Father's children. We know that every spirit assigned to this earth will come, whether through us or someone else. There are couples in the Church who think they are getting along just fine with their limited families but who will someday suffer the pains of remorse when they meet the spirits that might have been part of their posterity. The first commandment given to man was to multiply and replenish the earth with children. That commandment has never been altered, modified, or cancelled. The Lord did not say to multiply and replenish the earth if it is convenient, or if you are wealthy, or after you have gotten your schooling, or when there is peace on earth, or until you have four children… We believe God is glorified by having numerous children and a program of perfection for them. So also will God glorify that husband and wife who have a large posterity and who try to raise them up in righteousness." (Ezra Taft Benson, General Conference April 1969)
"Let not the mothers of the present nor those of the future, be swerved from the right path by any environment or circumstance that seems to mitigate against the performance of this duty. Let not poverty bar the way, for if poverty had been a consideration on the part of the mothers of the past, many of us would not be here." (Elder Melvin J. Ballard, Sermons, page 207-8)
"When married couples postpone childbearing until after they have satisfied their material goals, the mere passage of time assures that they seriously reduce their potential to participate in furthering our Heavenly Father's plan for all of his spirit children. Faithful Latter-day Saints cannot afford to look upon children as an interference with what the world calls 'self-fulfillment.' Our covenants with God and the ultimate purpose of life are tied up in those little ones who reach for our time, our love, and our sacrifices." (Dallin H. Oaks, "The Great Plan of Happiness", General Conference, October 1993)
Understanding the principles taught above goes a long way in helping us to seek after obedience instead of excuses or exceptions to the rule. That being said, I should point out that the Prophets have also been clear about the sensitivities that should be considered. President David O. McKay said, "Seeking the pleasures of conjugality without a willingness to assume the responsibilities of rearing a family is one of the onslaughts that now batter at the structure of the American home…When the husband and wife are healthy, and free from inherited weaknesses and diseases that might be transmitted with injury to their offspring, the use of contraceptives is to be condemned." (General Conference, October 1943) Here, a Prophet of God shows us the mercy of the Lord, but tempers it with the necessary and bold warning.
Sister Julie B. Beck, General Relief Society President, bore her testimony to the above principles. "When mothers know who they are and who God is and have made covenants with Him… desire to bear children. Whereas in many cultures in the world children are 'becoming less valued,' in the culture of the gospel we still believe in having children. Prophets, seers, and revelators who were sustained at this conference have declared that 'God's commandment for His children to multiply and replenish the earth remains in force.' President Ezra Taft Benson taught that young couples should not postpone having children and that 'in the eternal perspective, children-not possessions, not position, not prestige-are our greatest jewels.'" ("Mothers Who Know", General Conference, October 2007)
Sister Beck then pointed out the "great power" that comes from obedience to these principles when she said, "Faithful daughters of God desire children. In the scriptures we read of Eve (see Moses 4:26), Sarah (see Genesis 17:16), Rebekah (see Genesis 24:60), and Mary (see 1 Nephi 11:13–20), who were foreordained to be mothers before children were born to them… the value women place on motherhood in this life and the attributes of motherhood they attain here will rise with them in the Resurrection (see D&C 130:18). Women who desire and work toward that blessing in this life are promised they will receive it for all eternity, and eternity is much, much longer than mortality. There is eternal influence and power in motherhood." ("Mothers Who Know", General Conference, October 2007)
In a World Wide training meeting, broadcast all over the world in February of 2008, the topic of building a righteous posterity was discussed. As a part of that discussion, Sister Cheryl C. Lant, Primary General President, wanted to make sure we don't have the false impression that obeying this, like any other principle of the Gospel is easy. She said, "We had a large family, and my husband was the bishop when all the children were still very young. I would work all day Saturday and all morning Sunday to get them to church, and I had to get them there early or we just didn't even get there. We would line the whole bench-the whole center bench was filled with our children on the second row back-and we would be there before the meeting started. I remember one day a sister came up behind me and leaned over and said, 'Sister Lant, if my kids were as good as yours and if it was as easy for me as it is for you, I would have a large family too.' Well, I started to cry, and I cried clear through the whole meeting. And my husband kept looking at me like 'What is wrong? What is wrong?' I was a mess. I completely had a come-apart. And it was because it wasn't easy."
It is true. As President Hinckley stated, to bring about every aspect of building our Heavenly Fathers Kingdom, "(W)e must set aside our consuming selfishness. We must rise above our love for comfort and ease, and in the very process of effort and struggle, even in our extremity, we shall become better acquainted with our God." ("Our Mission of Saving", General Conference October 1991)
These plain and precious truths should not be a case for contention but points of unity that will bring us great joy in this life and in the life to come. The simple nature of this doctrine was pointed out by President Boyd K. Packer. He said, "People write asking what is the position of the Church on the Word of Wisdom, for instance, on soft drinks or something. And we think, "Why do they have to ask?" It is a principle, and you have the freedom to do as you will. You do not have to be commanded in all things. Without having to have the Church deliver a statement on it, you should know what the Lord's position is on abortion or cloning or same-gender marriage or birth control. All of those things are built in as a part of what we know and what we are." (CES Fireside February 2003)