From time to time, in response to an article about what the prophets have said about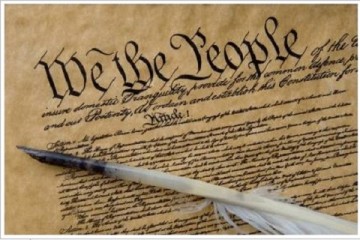 government, liberty and the Constitution, people will say (as if to debunk the article in one fell swoop), "God doesn't judge on ones politics!".
If by politics you mean what party you belong to, you're right, there is no revelation in our scriptures on what party to join.  However, the Lord is quite clear that we ARE held accountable for what policies we support and how we support their implementation.
D&C 98:4-7, 11 the Lord explains that we are to support Constitutional laws, explains what Constitutional laws are, and tells us that anything other than those principles are evil and tells us to "shun" evil.
D&C 101:77-78 explains that the Lord gave us the Constitution for the express purpose of giving us a government that will allow us to be accountable for our own sins because it doesn't interfere with our day to day activities, but merely tells the government what they are and are not allowed to do.
and finally D&C 134:1 clearly states that God "holds men accountable for their acts in relation to government"
The scriptures tell us what laws to support, what candidates to support and tells us God will hold us accountable for our choices in these matters, no matter how much we wish otherwise.
It might be a good idea to find out what the Lord has said, and take care of any repenting we may need to do.