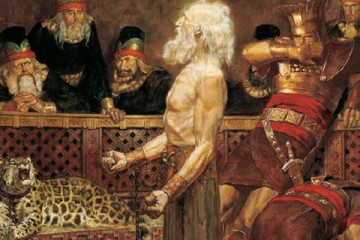 What is a sacred cow?  My definition is anything that is believed based only on tradition, and has little to zero basis on actual fact. These beliefs are held so strongly that the "worshiper" declares "blasphemy!" to anyone that challenges said belief.
Sacred Cow #1: Obey the law of the land… no matter what?
The 12th article of faith states, "We believe in being subject to kings, presidents, rulers, and magistrates, in obeying, honoring, and sustaining the law."
Many today have interpreted this to mean that it is a part of our faith that we are to obey any and all governmental laws and regulations no matter their compatibility with the laws of of God.
However, this paradigm does not take into account the Lords definition of law, as well as precedence set by ancient as well as modern (including the author of said article) Prophets.
In the Doctrine & Covenants, section 98 verses 5-7 lays out what "the law" is:
And that law of the land which is constitutional, supporting that principle of freedom in maintaining rights and privileges, belongs to all mankind, and is justifiable before me. Therefore, I, the Lord, justify you, and your brethren of my church, in befriending that law which is the constitutional law of the land; And as pertaining to law of man, whatsoever is more or less than this, cometh of evil.
Any law that is not Constitutional or fails in "supporting that principle of freedom in maintaining rights and privileges" is evil. In verse 11 the Lord tells us what we should do with such evil when He says, "And I give unto you a commandment, that ye shall forsake all evil".  Therefore, according to an actual revelation, the Lord tells us to forsake any laws that are unconstitutional or that violate principles of freedom. This conclusion is also supported by several statements from modern prophets.
In addition to this commandment from the Lord in this the last dispensation, we have precedence that reveals this as a universal principle.
Here are just a few examples:
We all remember the Sunday School lesson about Daniel and the lions den.  Why was Daniel, a Prophet of God, sent to the lions den?  He was sent there by the government because he violated the "law of the land"!
Daniel knew it was against the law to pray to God (Dan 6:10)
Daniel openly defied the law (Dan 6:10)
We should also remember Shadrach, Meshach, and Abed-nego, the three Hebrews that were sent into the fiery furnace because the disobeyed the "law of the land" that went against the law of God. (Dan. 3:12–30)
Let's skip now to modern examples:
Polygamy as practiced by Joseph Smith and contemporary apostles was against "the law of the land" in every single state they were in.
John Taylor said, "We believe in … loyalty to our country, but when they enact laws, forbidding us the free exercise of our religion, we cannot submit. God is greater than the United States; and when the government conflicts with Heaven, we will be ranged under the banner of Heaven against the government…  If the United States say different the Saints cannot obey it. … [W]e will worship God according to the dictates of our own conscience." (1/6/1880)
Heber J. Grant: "No matter what restrictions we are placed under by men, our only consistent course is to keep the commandments of God. We should, in this regard, place ourselves in the same position as that of the three Hebrews who were cast into the fiery furnace." (4/5/1885)
George Q. Cannon: "I admit that those raising children by plural wives are not complying with man-made laws, but in the sight of God they are not sinning, as there is no sin in it." (Reed Smoot Hearings 1:9)
Wilford Woodruff: "God says, "We shall be damned if we do not obey the law." Congress says, "We shall be damned if we do." It places us precisely in the same position that it did the Hebrews in the fiery furnace, and Daniel in the den of lions. … Our enemies have pursued the same course … and made it a law of offense to obey one of the laws of our God. Now who shall we obey? God or man? My voice is that we obey God." (4/21/1879)
Apostles Penrose & Richards wrote a letter to John Taylor stating: "We then say, we consider the law of God superior to the law of the State, and if we have to break the law of the State to keep the law of God, we will stand by the consequences." (2/16/1887)
The First Presidency: "God is superior to governments and courts. But he tells his Church to befriend the constitutional law of the land. If it is not constitutional, He says it comes of evil. It must support the principle of freedom in maintaining rights and privileges; if not, it comes of evil. Who is the Lord directing? His Church. Whatever is contrary to the freedom guaranteed by the Constitution, which includes not mere belief but the "free exercise" of religion, He does not command His people to obey, but says they shall do His will." (First Presidency 7/7/1886)
John Taylor: "I defy the United States. I will obey the will of God. These are my sentiments, and all of you who sympathize with me in this position raise your right hand." (1/6/1880)
It is dangerous to take one statement, or verse, or part of a verse in a vacuum, with no context.  That is how we get all the false creeds of men that lead to the great apostasy.  Prophets, both ancient and modern, are clear on this principle.
God's law is supreme, and all laws that violate His are to be "forsaken".