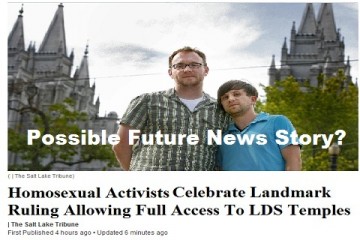 The homosexual rights movement started with just wanting sodomy to be legal and not be imprisoned for their "personal" behavior. Then they claimed all they wanted was the right to have their partner visit them in the hospital.  That was followed by saying all that they wanted was civil unions so they could have all the rights of a heterosexual couple – but don't worry, they would never seek marriage if they could just have civil unions (if it looks like a duck and quacks like a duck… The Church opposes "civil unions" See this interview "What the First Presidency has done is express its support of marriage and for that bundle of rights belonging to a man and a woman…  It really doesn't matter what you call it… whether it is civil union or domestic partnership or whatever label it's given, it is nonetheless tantamount to marriage. That is something to which our doctrine simply requires us to speak out and say, 'That is not right. That's not appropriate.'"). Now, in the United States, the battle is over allowing sodomites a legal marriage, but they insist that they would never force a Church to marry them.
If history is to be any clue as to future events of a group of people, it should be no surprise that the first country to pass civil unions for sodomites is now forcing churches to perform gay marriages. As reported in the June 7th 2012 edition of The Telegraph, the Denmark Parliament "voted through the new law on same-sex marriage… making it mandatory for all churches to conduct gay marriages" (emphasis added).  Currently the law only applies to the state-run churches, the Lutheran Church of Denmark. Fortunately, at least for now, this law has no bearing on marriages performed in the Denmark Temple of the Church of Jesus Christ of Latter-day Saints. However, it is clear that the anti-family, anti-liberty agenda of the homosexual lobby, is to force everyone to endorse their activity as not only "alright" but acceptable in the eyes of God.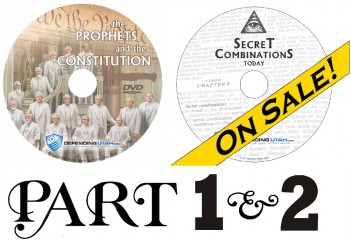 Elder David A. Bednar spoke about this during the Prop 8 election in California and warned, "one of the potential consequences growing out of this [prop 8 failure] is that we may find a decreasingly tolerant environment for our beliefs as members of The Church of Jesus Christ of Latter-day Saints."  He went on to further warn that there would be court decisions that would say, "If you have a Church, and it does not recognize same-gender marriage, that's discriminatory and you should not be allowed to do that.  It is not wild and crazy to suggest that there could be sanctions against the teaching of our doctrine…" and that the "tyranny of tolerance" would lead to "the inevitable clashes between religious liberty and free speech."
The cries of the supporters of sodomy have been consistently dishonest, and the warnings of Church leaders have been, dare I say, prophetic. How much longer until Denmark forces the Church to marry homosexuals in Chapels or even the Temple?  And how much longer after Denmark takes that dark path will the United States follow?