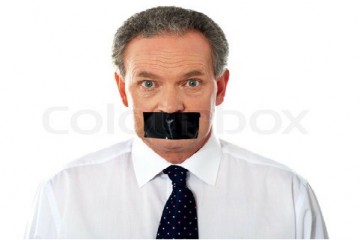 In the April of 1972 General Conference, then Elder, Ezra Taft Benson of the Quorum of the Twelve Apostles gave a talk that still causes controversy and raises questions to this day,  about what was actually meant. He recommended that all members of the Church read The John Birch Society book, None Dare Call it Conspiracy.   He said, "There is no conspiracy theory in the Book of Mormon—it is a conspiracy fact. And along this line I would highly recommend to you a new book entitled, 'None Dare Call It Conspiracy'." However, this recommendation did not make it into the official version of the conference report, and remains edited out to this day.
Before the advent of the internet and sites like YouTube, it was extremely difficult to determine with certainty what had actually been said.  As we can see in the video here, the quote above is accurate.  Therefore we know that this wasn't a case of misunderstanding, or an imagined quote.  So was Elder Benson reprimanded and forced to change the text of his talk – as some have suggested?
The change in the official record of this talk and what was "really behind it" has been the subject of much and speculation, and has been of concern to many people ever since the official record of the talk was released by the Church.  Some even wrote to Elder Benson asking him what happened.  Thankfully, some of those people saved the response they received from Elder Benson, (which can be read here) and the reason isn't nearly as sinister as some have claimed.  No, he wasn't reprimanded and forced to change his talk; and no, there weren't some "dark-forces" at the Church office building trying to silence the words of an Apostle.
In one of the letters he wrote concerning the subject, he said, "When I learned that we had representatives from behind the Iron Curtain at our conference, where we have over 5,000 members, I made a few minor changes in my talk of my own volition…  Our Ensign magazine has worldwide distribution and it seemed the part of wisdom to make a very limited number of minor changes.  I continue to encourage people to read NONE DARE CALL IT CONSPIRACY."
There are those that seek to discredit the words of the leaders of the Church – like Ezra Taft Benson, because they don't like the fact that their views are the antithesis of The Gospel of Jesus Christ, and so they do whatever they can to discredit those Church leaders that speak boldly.  Then there are others that try to create suspicion of other Church leaders.  No matter the motive behind such efforts, let us not be fooled by hearsay or circumstantial evidence – but stick to the facts and let them lead you to the truth.  As the Savior said, "And ye shall know the truth, and the truth shall make you free." (John 8:32)