Mormon Chronicle Note: Whether or not you agree with any personal conclusions made by Michael Quinn, his essay "Ezra Taft Benson and Mormon Political Conflicts" is the most in-depth treatise on the topic and contains a lot of interesting information.
The Mormon Chronicle disagrees with many of the conclusions and assumptions presented by Quinn in this essay. We hold Ezra Taft Benson in the highest regard. We share this essay in hopes that the reader will get some insights into the conflict that did exist and also that you can discern the truth for yourselves. As with much of Quinn's research a truth seeker will have to discard many of his personal opinions and gain insights from the source material his essay is based on.
From D. Michael Quinn: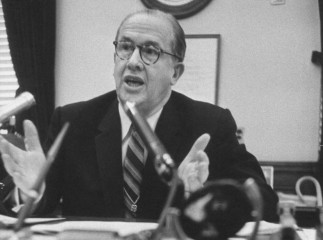 From the 1950s to the 1980s Ezra Taft Benson was at the center of a series of political conflicts within the Church of Jesus Christ of Latter-day Saints. In 1943 he became a member of the Quorum of the Twelve Apostles. With church president David O. McKay's permission, he served as Secretary of Agriculture to U.S. president Dwight D. Eisenhower from 1953 to 1961. Benson's autobiography and official biography openly present the national controversies involved with his service as Secretary of Agriculture.
Less known is the quiet conflict between Secretary Benson and politically conservative LDS administrators and general authorities in Utah. As early as 1953, First Presidency counselor J. Reuben Clark said he was "apprehensive of Bro Benson in Washington." By 1957 Clark and Apostle Mark E. Petersen agreed to instruct the church's Deseret News to "print the adverse comment" about Benson's service as Secretary of Agriculture. The next year several general authorities and church administrators expressed personal opposition to Benson. In March 1958, Apostle Harold B. Lee said that Benson needed "humbling" to serve "properly … as a member of the Council of the Twelve." In July Ernest L. Wilkinson, Brigham Young University's president, wrote that Benson "espouse[s] certain principles which are utterly inconsistent with the feeling of the Brethren." During the next several months Apostle Hugh B. Brown actively (and successfully) campaigned for the Democratic candidate in Utah's U.S. senatorial race, and against Benson's support of the incumbent Republican.
Criticism of Secretary Benson even included the First Presidency. In 1958, Counselor Clark said, "I did not think the Secretary of Agriculture would yield to argument," in conversation with the chair of the Utah Cattlemen's Association and the chair of the National Wool Growers Association. By 1960 Clark complained that "Sec'y Benson's policies have about extinguished the small farmer and small cattleman." Clark's view was shared by the other counselor in the First Presidency, Henry D. Moyle. And in 1961 Wilkinson observed that "President McKay for the moment is displeased with some things that Brother Benson has done." However, it is unclear whether Benson even knew that his fellow general authorities disapproved of his policies as Secretary of Agriculture. For example, J. Reuben Clark concealed his disapproval in public statements about Benson. In conversations and correspondence with Benson, he also muted his dissent.
On the other hand, almost as soon as Ezra Taf t Benson returned to Utah from Washington, D.C., in 1961, he became involved in a well-known conflict with senior members of the Mormon hierarchy. His official biographer declined to write about this controversy, and that silence is equally true in the biographies of every other general authority who was prominently involved. Despite this conflict's significance for modern Mormonism and the national publicity it received, this story is either absent or muted in histories of the LDS church. Because these matters are significant to the internal dynamics of the operations of the LDS hierarchy, this essay examines at length Apostle Ezra Taft Benson's conflicts with other general authorities which began in the 1960s. . . .
Download the 87-page PDF document "Ezra Taft Benson and Mormon Political Conflicts" by D Michael Quinn.