Christmas is a joy to my senses.  My memories are filled with the smells of a dinner smorgasbord, pine trees, and Christmas baking; the sounds of carols and children excitedly playing; the cool and crisp outdoors contrasted with the warmth of the hearth; the closeness of family and friends; visions of lights throughout the neighborhood with stars and nativity scenes decorating our home; the increased feelings of love, charity, service, and above all, the gratitude I feel toward my Savior.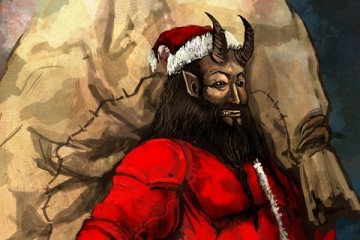 And yet in all of this celebration, Santa and his reindeer are nowhere to be found…and we don't miss them either.  We have made the choice for our family to not include Santa in our celebrations of the Savior's birth.  We have taught our children about the historical "Saint Nicholas" who served others, but that is as far as he gets into our home (Okay, we do occasionally eat a chocolate-covered marshmallow Santa or Reindeer because I think they're tasty, so I guess they have a place!).  The modern Santa character is wholly unnecessary in LDS religious traditions and we instead focus on our Savior, Jesus Christ.
With the vast wealth of scripture, stories, and testimony we have of Jesus Christ, why bring in a fictional character?  Why even muddy the water with unnecessary falsehoods and deception of our Children?  Can we not learn service, charity, and love through the example of Christ Himself?  Perhaps some families truly can include Santa in their celebrations without lying to their children or getting lost in the Babylonian trappings of the holiday, but my question is, why even try to fight a losing battle?
I am reminded of Jeffrey R. Holland's BYU Devotional "The Best is Yet to Be", given on January 13th, 2009, where he speaks of Lot's wife lacking faith in God's ability to give her a future better than the past she was not wanting to leave behind, and recounts Elder Neal A. Maxwell's having said that such people know they should have their primary residence in Zion, but still hope to keep a Summer cottage in Babylon. (Neal A. Maxwell, A Wonderful Flood of Light (1990), 47)
Keeping Santa in Christmas, in my opinion, is one form of keeping a summer cottage in Babylon – one way of holding on to a "vain and foolish" tradition of our fathers that distracts us from truth and a brighter future offered by a loving Father in Heaven.   Many seem to feel that if they lost Santa they'd lose the traditions they hold dear.  I can share from experience that very little in the way of tradition is lost, and what is lost is not of any importance.
To be more specific, we DON'T have our pictures taken with Santa, we don't write him letters, we don't leave a plate of cookies with a carrot and cup of milk sitting out on Christmas Eve, and we don't lie to our children about who judges their deeds, who buys their gifts, or how those gifts get into our home.
We DO give gifts, we do open them on Christmas morning, we do decorate our house (though it is decidedly more Christ-oriented than the social norm), we do have holiday meals, we do bake goodies, we do listen to and sing Christmas carols, we do serve others, and we do get together with our family and friends.  The spirit is so much stronger when we concentrate on those things of importance and leave out that which is of lesser value.
I also know that we aren't finished in our progression as a family in this area.  We aren't perfect, we're trying.  We need to concentrate more on the story of Christmas and reading of related scriptures.  We still need less emphasis on gift giving of the purchase-required kind and more emphasis on service and charity.  We still need to do away with stockings (what purpose do they really serve, anyway?) and we haven't discussed the tree yet. This will be the first year we will be celebrating Christmas without our extended family and we will be re-evaluating and starting our own traditions that are in alignment with the gospel and its teachings.  I have found many ideas for traditions to consider on lds.org and will include links below.  I'm excited at the options and the spirit they can bring to our home.
And Santa isn't the only character missing at our house – the Easter Bunny and Tooth Fairy don't visit either.  The traditions are still the same, but teaching our children falsehoods has been removed.  I'm sure we could improve on our Easter just as we can with our Christmas, but we've made the first steps of removing the hindering blocks and now need to improve on what we have.  This year our children (ages 8 and under) have made the informed decision on their own to have a dress-up party not based on evil spirits in lieu of celebrating Halloween.  We haven't set specific parameters yet. In discussion are the options of an old fashioned ball, a tea for gentlemen and ladies in their finest dress and behavior, or a modest "anything but clothes" party for creativity and fun.  While we have taught our children about the true time of our Savior's birth, we probably need to start celebrating that day as a family holiday as well, again creating our own Christ-centered traditions.
We have such a wealth of knowledge of our Savior at our fingertips, we need not look elsewhere.  Jesus Christ IS the source of truth and right.  Let us celebrate Christ's birth, life, death and resurrection by drawing on the well of living water from which, if we drink, we shall not thirst, and throw off the traditions of our fathers that would otherwise muddy that clean, pure source.
Related Articles: