WAR:
War is so tragic and horrible. As a Christan Nation we love all of God's children and desire peace and plenty for them. But at times, the war drum beats for various reasons and many of us hear the call and go to battle based on a fervent desire to protect our way of life. It seems that only in hindsight do we see the real reasons the drums were being beaten and may find that it wasn't something we would have supported had we known the whole story. Wouldn't it be nice if God had given us some kind of guidelines as when we should go to war and when we should not go to war especially with other nations. That way we could check it against what the drummers are telling us and make a more informed decision as to whether we would risk life and limb of ourselves and our fellow brothers and sisters.  Luckily, we have such decrees from God. Uniquely,  The Church of Jesus Christ of Latter-Day Saints have additional revelations direct from Heaven that spell out the rules of warfare precisely.  We should remember that we are extremely blessed (or cursed, depending on how you look at it) for having such clear passages to check against the cacophony of the world's doctrine on war. I'll be honest, I never paid much attention to these specific passages of scripture until about 4 years ago when I woke up to our awful situation.  When I realized how clear and direct  they were, I felt it was important to pass along what I had found.So what are they? Here's a partial list:
Rules of Engagement:
Now, I speak unto you concerning your families—if men will smite you, or your families, once, and ye bear it patiently and revile not against them, neither seek revenge, ye shall be rewarded;

But if ye bear it not patiently, it shall be accounted unto you as being meted out as a just measure unto you.

And again, if your enemy shall smite you the second time, and you revile not against your enemy, and bear it patiently, your reward shall be an hundredfold.

And again, if he shall smite you the third time, and ye bear it patiently, your reward shall be doubled unto you four-fold;

And these three testimonies shall stand against your enemy if he repent not, and shall not be blotted out.

And now, verily I say unto you, if that enemy shall escape my vengeance, that he be not brought into judgment before me, then ye shall see to it that ye warn him in my name, that he come no more upon you, neither upon your family, even your children's children unto the third and fourth generation.

And then, if he shall come upon you or your children, or your children's children unto the third and fourth generation, I have delivered thine enemy into thine hands;

And then if thou wilt spare him, thou shalt be rewarded for thy righteousness; and also thy children and thy children's children unto the third and fourth generation.

Nevertheless, thine enemy is in thine hands; and if thou rewardest him according to his works thou art justified; if he has sought thy life, and thy life is endangered by him, thine enemy is in thine hands and thou art justified.

Behold, this is the law I gave unto my servant Nephi, and thy fathers, Joseph, and Jacob, and Isaac, and Abraham, and all mine ancient prophets and apostles.


And again, this is the law that I gave unto mine ancients, that they should not go out unto battle against any nation, kindred, tongue, or people, save I, the Lord, commanded them.

And if any nation, tongue, or people should proclaim war against them, they should first lift a standard of peace unto that people, nation, or tongue;

And if that people did not accept the offering of peace, neither the second nor the third time, they should bring these testimonies before the Lord;

Then I, the Lord, would give unto them a commandment, and justify them in going out to battle against that nation, tongue, or people.

And I, the Lord, would fight their battles, and their children's battles, and their children's children's, until they had avenged themselves on all their enemies, to the third and fourth generation.

Behold, this is an ensample unto all people, saith the Lord your God, for justification before me.
To me that's pretty clear language on how often we should bear out retaliation before we are justified going to war against another nation or neighbor for that matter. Are we following that rule in our day?
Fighting for A Just Cause:
Nevertheless, the Nephites were inspired by a better cause, for they were not fighting for monarchy nor power but they were fighting for their homes and their liberties, their wives and their children, and their all, yea, for their rites of worship and their church.

And they were doing that which they felt was the duty which they owed to their God;for the Lord had said unto them, and also unto their fathers, that: Inasmuch as ye are not guilty of the first offense, neither the second, ye shall not suffer yourselves to be slain by the hands of your enemies.

And again, the Lord has said that: Ye shall defend your families even unto bloodshed. Therefore for this cause were the Nephites contending with the Lamanites, to defend themselves, and their families, and their lands, their country, and their rights, and their religion.

Although we should most definitely defend our life, liberty, religion, family to the death. However we must not be guilty of the first or second offense toward another people.
Notice here how the Nephites were taught NEVER to give an offense:
Alma 48: 14-16

Now the Nephites were taught to defend themselves against their enemies, even to the shedding of blood if it were necessary; yea, and they were also taught never to give an offense, yea, and never to raise the sword except it were against an enemy, except it were to preserve their lives.

And this was their faith, that by so doing God would prosper them in the land, or in other words, if they were faithful in keeping the commandments of God that he would prosper them in the land; yea, warn them to flee, or to prepare for war, according to their danger;

And also, that God would make it known unto them whither they should go to defend themselves against their enemies, and by so doing, the Lord would deliver them; and this was the faith of Moroni, and his heart did glory in it; not in the shedding of blood but in doing good, in preserving his people, yea, in keeping the commandments of God, yea, and resisting iniquity.
The Great commander and Prophet Gidgiddoni  refused to take an offensive approach even when it came to going after the Murderous Secret Combination band of the Gadianton robbers:
Third Nephi 3: 18–21

Now the chiefest among all the chief captains and the great commander of all the armies of the Nephites was appointed, and his name was Gidgiddoni.

Now the people said unto Gidgiddoni: Pray unto the Lord, and let us go up upon the mountains and into the wilderness, that we may fall upon the robbers and destroy them in their own lands.

Now it was the custom among all the Nephites to appoint for their chief captains, (save it were in their times of wickedness) some one that had the spirit of revelation and also prophecy; therefore, this Gidgiddoni was a great prophet among them, as also was the chief judge.

But Gidgiddoni saith unto them: The Lord forbid; for if we should go up against them the Lord would deliver us into their hands; therefore we will prepare ourselves in the center of our lands, and we will gather all our armies together, and we will not go against them, but we will wait till they shall come against us; therefore as the Lord liveth, if we do this he will deliver them into our hands.
The End of a Nation:
Finally after many struggle and battles for survival in the Nephite nation here in the Americas, Moroni is leading his people in defending  their lands and freedoms until they broke the Commandments of War and wage and offensive attack against the Lamanites.  When one reads these passages, your mind ponders if this wasn't the deciding pivotal point in the Nephites thousand year history that proved their irreversible, utter destruction.  It's a sad ending to such a beloved people, but if we do not learn the lesson from the past, we will "reap the chaff thereof in the whirlwind (Mosiah 7:30)" as they did.
And now, because of this great thing which my people, the Nephites, had done, they began to boast in their own strength, and began to swear before the heavens that they would avenge themselves of the blood of their brethren who had been slain by their enemies.
And they did swear by the heavens, and also by the throne of God, that they would go up to battle against their enemies, and would cut them off from the face of the land.
And it came to pass that I, Mormon, did utterly refuse from this time forth to be a commander and a leader of this people, because of their wickedness and abomination.

Behold, I had led them, notwithstanding their wickedness I had led them many times to battle, and had loved them, according to the love of God which was in me, with all my heart; and my soul had been poured out in prayer unto my God all the day long for them; nevertheless, it was without faith, because of the hardness of their hearts.

And thrice have I delivered them out of the hands of their enemies, and they have repented not of their sins.

And when they had sworn by all that had been forbidden them by our Lord and Savior Jesus Christ, that they would go up unto their enemies to battle, and avenge themselves of the blood of their brethren, behold the voice of the Lord came unto me, saying:

Vengeance is mine, and I will repay; and because this people repented not after I had delivered them, behold, they shall be cut off from the face of the earth.

And it came to pass that I utterly refused to go up against mine enemies; and I did even as the Lord had commanded me; and I did stand as an idle witness to manifest unto the world the things which I saw and heard, according to the manifestations of the Spirit which had testified of things to come.

Therefore I write unto you, Gentiles, and also unto you, house of Israel, when the work shall commence, that ye shall be about to prepare to return to the land of your inheritance;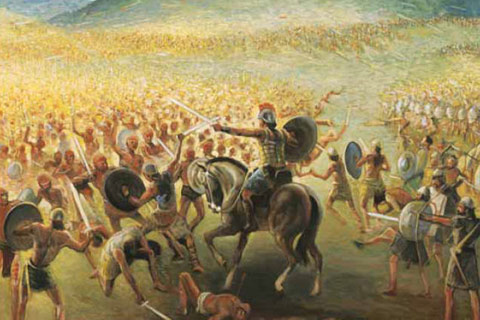 The Savior Jesus Christ Taught us how we should treat our enemies. We must error on the side of mercy wherever possible. We must not fall into the trap of  "delighting in bloodshed", and forget that everyone is a son or daughter of our Heavenly Father and "all are alike unto God (2 Nephi 26:33)."
ST LUKE Chapter 6: 27-38

But I say unto you which hear, Love your enemies, do good to them which hate you,

Bless them that curse you, and pray for them which despitefully use you.

And unto him that smiteth thee on the one cheek offer also the other; and him that taketh away thy cloke forbid not to take thy coat also.

Give to every man that asketh of thee; and of him that taketh away thy goods ask them not again.

And as ye would that men should do to you, do ye also to them likewise.

For if ye love them which love you, what thank have ye? for sinners also love those that love them.

And if ye do good to them which do good to you, what thank have ye? for sinners also do even the same.

And if ye lend to them of whom ye hope to receive, what thank have ye? for sinners also lend to sinners, to receive as much again.

But love ye your enemies, and do good, and lend, hoping for nothing again; and your reward shall be great, and ye shall be the children of the Highest: for he is kind unto the unthankful and to the evil.

Be ye therefore merciful, as your Father also is merciful.

Judge not, and ye shall not be judged: condemn not, and ye shall not be condemned: forgive, and ye shall be forgiven:

Give, and it shall be given unto you; good measure, pressed down, and shaken together, and running over, shall men give into your bosom. For with the same measure that ye mete withal it shall be measured to you again.