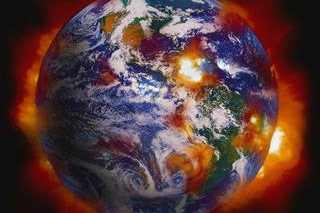 What is a sacred cow?  My definition is anything that is believed based only on tradition, and has little to zero basis on actual fact. These beliefs are held so strongly that the "worshiper" declares "blasphemy!" to anyone that challenges said belief.
Sacred Cow #5: It's too late
Nothing pleases Satan more than the attitude that "It's too late" or "It is 'prophecy' so there is nothing we can do".  This attitude takes Satan's most powerful enemies (holders of the Priesthood) out of the picture.
This has been a prevalent lie spread amongst the followers of Christ for decades and has been refuted by leaders of Christ's church as a lie from Satan.
"Sixth: 'Don't worry,' says the devil 'the Lord will protect you, and besides the world is so corrupt and heading toward destruction at such a pace that you can't stop it, so why try.' Well to begin with, the Lord will not protect us unless we do our part. But many of the prophecies referring to America's preservation are conditional. That is, if we do our duty we can be preserved, and if not then we shall be destroyed. This means that a good deal of the responsibility lies with the priesthood of this Church as to what happens to America and as to how much tragedy can be avoided" Ezra Taft Benson, General Conference, April 1965
Here we learn that it is a lie from Satan that you can't stop the destruction of freedom, and it's a lie that we should not try.  We learn that our preservation as a people and as individuals depends on what we try to do, and that what happens is either because of, or the fault of the actions (or lack thereof) of Priesthood holders.
In fact, "The Lord has declared that before the second coming of Christ, it will be necessary to "destroy the secret works of darkness" in order to preserve the land of Zion" the Americas. (2 Nephi 10:11–16.) – Ezra Taft Benson, General Conference, Sept. 1961
Are we waiting for the events of the "end times" to happen, or are we anxiously engaged in building the Kingdom of God on earth?  John Taylor warned,
"But if Zion is never built up, the Lord never will come, for he must have a people, and a place to come to." (Government of God, p.100)
The FACT is, the conspiracy to destroy freedom will be destroyed in America BEFORE Christ comes again.  The only question that remains is; will you do your part or will you stand on the side lines as an enemy to the plan of God?