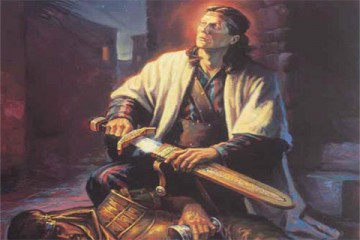 The account of Nephi's execution of Laban in the Book of Mormon is a common source of uncomfortable misunderstanding for many members of the church. It is also often used as a basis for anti-Mormon zealots to attempt to disprove the Book of Mormon. Their assertion is that God would not command Nephi to kill Laban, contrary to his commandment "Thou shalt not kill".
Typically, the "go-to" exposition used by church members to explain God's reasoning is found in 1 Nephi 4:13, where God explains to Nephi:
Behold the Lord slayeth the wicked to bring forth his righteous purposes. It is better that one man should perish than that a nation should dwindle and perish in unbelief.
This scripture appeases some, but for others, it is little more than an elusive rationalization for a cold-blooded murder.  A deeper study of the surrounding events and the teachings of the Savior will generate a clearer understanding – separate from this small bit of comfort the Spirit offered Nephi as he carried out God's command. There is a much more profound lesson to be learned from the account of Nephi and Laban that harmonizes perfectly with one of the most significant morsels of wisdom the Savior shared with us.
According to the Law of Moses in effect at the time, a man could be put to death for robbery (see Exodus 22:2). This penalty could be carried out by the victim.  As Laman attempted to bargain with Laban for the brass plates, Laban became angry and accused him of robbery.  He used the law to create a ruse and provided himself an excuse to "justifiably" kill Laman.
And behold, it came to pass that Laban was angry, and thrust him out from his presence; and he would not that he should have the records. Wherefore, he said unto him: Behold thou art a robber, and I will slay thee. (1 Nephi 3:13)
Not only did Laban attempt to kill Laman before he escaped and returned to his brothers, but he retained the treasures that had been offered in trade for the plates.
And it came to pass that when Laban saw our property, and that it was exceedingly great, he did lust after it, insomuch that he thrust us out, and sent his servants to slay us, that he might obtain our property.

 And it came to pass that we did flee before the servants of Laban, and we were obliged to leave behind our property, and it fell into the hands of Laban. (1 Nephi 3:25-26)
One key element of this account that is so often overlooked is Laban's intentions. Because of his unfair judgment upon Laman and his deceptive accusations, Laban placed himself under condemnation, and according to God's law, brought upon himself the sentence of death that he had unrighteously imposed upon Laman.
The Savior taught:
Ye have heard that it was said by them of old time, Thou shalt not kill; and whosoever shall kill shall be in danger of the judgment:

 But I say unto you, That whosoever is angry with his brother without a cause shall be in danger of the judgment: and whosoever shall say to his brother, Raca, shall be in danger of the council: but whosoever shall say, Thou fool, shall be in danger of hell fire. (Matt 5:21-22)
In this portion of The Sermon on the Mount, the Savior states that we will be judged with the same level of cruelty or mercy that we extend to others.  In Matt 7:1-2, He goes on to say:
Judge not, that ye be not judged. For with what judgment ye judge, ye shall be judged: and with what measure ye mete, it shall be measured to you again.
This was Laban's great error. He falsely charged Laman with robbery and sentenced him to death. By doing this, he imposed the same sentence of death upon himself, for the robbery he committed against Laman and his family.
Nephi was commanded to execute Laban and obtain the brass plates, and the Lord provided the way by delivering Laban to him in a drunken, defenseless state. Nephi struggled internally with his charge to carry out the execution, and thought: "Never at any time have I shed the blood of man. And I shrunk and would that I might not slay him." (1 Nephi 4:10.)
He felt mercy toward Laban – despite his crimes, including the attempt on his brother's life. At this moment, Nephi epitomizes the lesson imparted by the Savior. He offered mercy and forgiveness to Laban, though he was not deserving of such clemency.  The Spirit then offered comfort to Nephi – as he was acting according to the law of obedience, and reassured him of his righteousness.
Barring the Law of Moses that justified Nephi's execution of Laban, the law according to God necessitated that Laban be judged and measured according to his own word. Nephi carried out justice under the law of obedience, not under the law of justice – and consequently, was blessed for his actions as well as for his intentions.
Nephi was not acting contrary to God's laws, nor did God command him in contradiction to previous commandments; in fact, just the opposite. Nephi exemplified the example of the Savior and demonstrated mercy, forgiveness, and honorably enforced justice by acting in direct obedience to God.