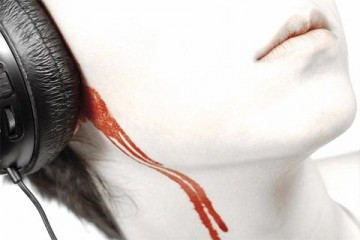 Editor's note: Though some of the terminology used is outdated, the principles can be applied as easily today as when they were first spoken.
Now what of the entertainment that is available to our young people today? Are you being undermined right in your home through your TV, radio, slick magazines, rock records? Much of the rock music is purposely designed to push immorality, narcotics, revolution, atheism, and nihilism, through language that often has a double meaning and with which many parents are not familiar.
Parents who are informed can warn their children of the demoralizing loud, raucous beat of rock music, which deadens the senses and dulls the sensibilities—the jungle rhythm which inflames the savagery within. (1)
Evidence of the dastardly work of evil forces is increasingly evident. On every side we see the sad and heart-rending results. The devil-inspired destructive forces are present in our literature, in our art, in the movies, on the radio, in our dress, in our dances, on the TV screen, and even in our modern, so-called popular music. Satan uses many tools to weaken and destroy the home and family and especially our young people. Today, as never before, it seems the devil's thrust is directed at our youth…
Music creates atmosphere. Atmosphere creates environment. Environment influences behavior. What are the mechanics of this process?
Rhythm is the most physical element in music. It is the only element in music that can exist in bodily movement without benefit of sound. A mind dulled by drugs or alcohol can still respond to the beat.
Loudness adds to muddling the mind. Sound magnified to the threshold of pain is of such physical violence as to block the higher processes of thought and reason. (And turning down the volume of this destructive music does not remove the other evils.) . . .
Repetition to the extreme is another primitive rock device. . . .
Gyrations, a twin to rock rhythm, are such that even clean hands and a pure heart cannot misinterpret their insinuations. . . .
Darkness [and dimmed lights] is another facet of the rock scene. It is a black mass that deadens the conscience in a mask of anonymity. Identity lost in darkness shrinks from the normal feelings of responsibility.
Strobe lights split the darkness in blinding shafts that reduce resistance like the lights of an interrogator's third degree or the swinging pendulum of the hypnotist who would control your behavior. . . .
The whole psychedelic design is a swinging door to drugs, sex, rebellion, and Godlessness. Combined with the screaming obscenities of the lyrics, this mesmerizing music has borne the fruit of filth. Leaders of the rock society readily proclaim their degeneracy. . . .
And the most diabolical deceit of this infamy is that it denies evil to be an absolute. Our religion is one of absolutes and cannot be rationalized into a relativistic philosophy of the "liberal Mormons." We cannot safely rationalize away righteousness. (2)
The Lord said, "For my soul delighteth in the song of the heart; yea, the song of the righteous is a prayer unto me. . . ." (D&C 25:12.) It was pleasing unto the Lord where in Third Nephi in the great Book of Mormon we read: ". . . they did break forth, all as one, in singing, and praising their God. . . ." (3 Ne. 4:31.) It was pleasing unto Satan when, in First Nephi, Lehi's children and the "sons of Ishmael and also their wives began to make themselves merry, insomuch that they began to dance, and to sing, and to speak with much rudeness. . . ." (1 Ne. 18:9.)
And now a music scholar points to a new direction in the rock-drug culture [which is] hailed by many ministers and the music industry as a silver lining in the clouds of gold. Religious rock is climbing up the "Top Ten" charts. The growing resistance to the rock-drug scene is being diverted by this wholesome-appearing retreat from the new morality. But a review of religious rock materials unmasks an insidiously disguised anti-Christ. By reducing revealed religion to mythology, rock assumes the mantle of righteousness while rejecting the reality of sin. Without sin the new morality can continue in its Godless revel behind the pretense of religious robes. By reversing the roles of Jesus and Judas, one fast-selling album fits perfectly the warning of Isaiah [5:20]: "Woe unto them that call evil good, and good evil; that put darkness for light, and light for darkness." (Richard Nibley.) (3)
May I quote from a musician who for many years has observed the influence of music on behavior:
Satan knows that music hath charms to sooth or stir the savage beast. That music has power to create atmosphere has been known before the beginning of Hollywood. Atmosphere creates environment, and environment influences behavior—the behavior of Babylon or of Enoch.
Parents who retch at the radio and records reverberating in psychedelic revolt would do well to inventory their own record collection before complaining. If it is small, undiversified, and unused, the complaint must rest on the parent. Seeds of culture are best sown in the fertile ground of infant imitation. No amount of criticizing in the teen years can substitute for the young years of example that are lost. A parent who lost his chance to be a hero-image left a gap for a teen hero. (Richard Nibley.)
Most of these heroes who are being glamorized today are no longer noble, accomplished, humble, or righteous. From reports in books, magazines, and newspapers—especially the youth sections—we learn that they are lewd, obscene, immoral, avaricious, and in some cases even cruel. It is the very life-style we are here to avoid that is paraded before our young people by their celebrated peers. To deflect the admiration of youth from these examples of the ugly life, we must start young. The care and feeding of children must include equal concern for their emotional lives as well as their physical, spiritual, and intellectual lives. (4)
Have you been listening to the music that many young folks are hearing today? Some of it is nerve-jamming in nature and much of it has been deliberately designed to promote revolution, dope, immorality, and a gap between parent and child. And some of this music has invaded our Church cultural halls.
Have you noticed some of our Church dances lately? Have they been praiseworthy, lovely, and of good report? "I doubt," said President McKay, "whether it is possible to dance most of the prevalent fad dances in a manner to meet LDS standards." And what about modesty in dress? When was the last time you saw a high school girl wearing a dress that covered her knees? The courageous address of President Spencer W. Kimball a few years ago entitled "A Style of Our Own" is certainly applicable today. (See Faith Precedes the Miracle, Deseret Book, 1972, p. 161.) (5)
A Principle to Judge
Now hear this test proposed by President George Q. Cannon:
If the breach is daily widening between ourselves and the world . . . we may be assured that our progress is certain, however slow. On the opposite hand, if our feeling and affections, our appetites and desires, are in unison with the world around us and freely fraternize with them . . . we should do well to examine ourselves. Individuals in such a condition might possess a nominal position in the Church but would be lacking the life of the work, and, like the foolish virgins who slumbered while the bridegroom tarried, they would be unprepared for his coming. . . . (Millennial Star, October 5, 1861 [vol. 23], pp. 645-46.) (6)
Footnotes:
1 – General Conference, October 1970
2, 3, 4 – General Conference, October 1971
5, 6 – General Conference, April 1969