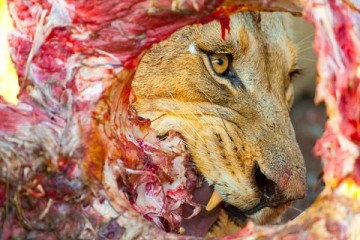 Mormon Chronicle EXCLUSIVE! Never before available personal writings of Elder H. Verlan Andersen.
The prophecies in the Book of Mormon regarding us Gentiles are most sobering, even frightening (Editors note: President Boyd K. Packer says we are the Gentiles the Book of Mormon is talking about here, "and the term gentile in that place in the Book of Mormon refers to us in our generation").
The Lord God of Israel Himself spoke to us about our fate if we failed to repent and come unto Him and understand the true points of His gospel.
In 3 Ne. 16:20 and 21 He states repeatedly that the remnant of the House of Israel, those to whom He was speaking, would go through among us as a Lion among a flock of sheep and there would be none to deliver.
Then Mormon, after recounting the horrible events attending the destruction of his own people by the Lamanites, gives us a similar warning in almost the same words as those of the Savior. (See Mormon 5:24)
Isaiah makes mention of the great blessings which will come to the House of Israel, the remnant, when they are restored to the lands of their inheritance. Christ dwells on this theme at great length as He speaks to the Nephites (and Lamanites) about the last days. But the vital message contained in the three chapters 16, 20, and 21 is to the Gentiles. It is a warning to us to repent and to keep the covenant or we will be swept off. However as many of us as do repent will be numbered with the seed of Lehi and will receive this chosen land as an eternal home.
Nephi adds his warning to us Gentiles. After quoting extensively from Isaiah, he proceeds to explain Isaiah's prophecies. He states that all of the Gentile nations shall be drunken with iniquity and all manner of abominations. (2 Ne. 27:1, 2) He says even the humble followers of Christ will be misled by the precepts of men. (2 Ne. 28:14) But then he says that we need not suppose that all of the Gentiles are destroyed. As many as will repent are the covenant people. (2 Ne. 30:1, 2)
Mormon, after recounting the destruction of his own people by the Lamanites, warns us Gentiles that they will destroy us also unless we repent. (Mormon 5:19-22)
Moroni adds his warning but does so regarding the secret combinations, which is a much more explicit warning because it brings into focus our great national crime: the violation of the covenant by the corruption of our laws. We have adopted Satan's laws and system of government instead. And so we have these prophets warning us Gentiles of our coming tragedy:
Christ; 3 Ne. 16:20, 21
Mormon; Moroni 5:19-22
Nephi; 2 Ne. 30:1, 2
Jacob; 2 Ne. 10:18, 19
Moroni; Ether 2 and Ether 8 esp.
(Personal Notes, "The Failure of the Gentiles to Obey the Covenant of the Gospel," 10/16/1981)