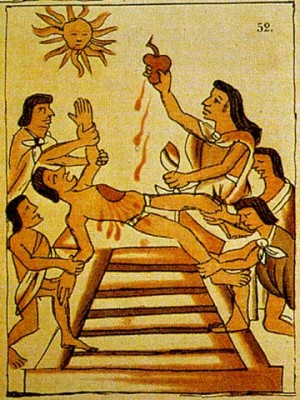 What is a sacred cow?  My definition is anything that is believed based only on tradition, and has little to zero basis on actual fact. These beliefs are held so strongly that the "worshiper" declares "blasphemy!" to anyone that challenges said belief.
Sacred Cow #6: Mormons don't perform human sacrifices
I was reading in Jeremiah this week at Church (yes, I know. The New Testament is the one being taught in Sunday School.  I will repent for not sticking to the "program")  and came across a really interesting scripture in Jeremiah about human sacrifice.  It struck me, many (if not all) of us are doing this (in one way or another) today!
Jeremiah 19 talks about how the Lord will "bring evil" upon Jerusalem, one of the reasons being that they were sacrificing their children to the Babylonian idol, Baal.
It struck me that Babylon, when referenced in modern times, refers to the "world" and "worldly", and "idols" are referred to as the things of the world that we put as priorities in our life.
The people of Jeremiah's time still outwardly "served" their Father in Heaven and went to "Church".  They saw themselves as basically doing what was right.  That is why they rejected the words of Jeremiah, Lehi and many others.  However the Lord, and His servants, saw it much differently.
Aren't we "sacrificing" (giving up) our children to "Babylon (the world) when we turn them over to anyone else so that both parents can go to work in order to "worship" (focus on) our favorite "idol" (TV, recreation, alone time, bigger things, name brand things, unrighteous wants, etc)?
We have an undelegateable duty to raise our children up to the Lord.  Just like ancient Israel not seeing their idolatry, we miss it as well when we put anything above our Father in Heaven and the responsibilities He has given us.
We sacrifice our children to the false idols of Babylon any time we put our wants above our God given responsibilities as parents.
What were the consequences of ancient Israel?  What will be our consequences?