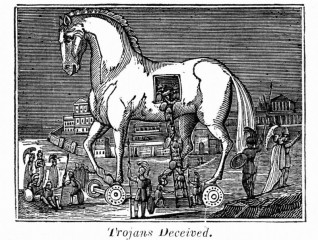 This is exclusive content from the personal files of Elder H. Verlan Andersen of the Seventy
In my opinion the Book of Mormon provides a historical warning to those nations who occupy this land.
Satan's plan seems to be working to perfection among the Latter-day Saints today. I discover that almost without exception, the students here at the B.Y.U. believe in the 10 points of the Communist Manifesto either in whole or in part. This in spite of the fact that our modern prophets have identified communism as being diametrically opposed to everything for which the Church stands (See President McKay's statement of the position of the Church on communism, April, 1966) and that it is Satan's plan. (Many are Called But Few are Chosen, p. 49) Moroni warned us specifically about confusing God's plan with Satan's. He tells us a bitter fountain cannot bring forth good water, (Moro. 7:11) and that,
…whatsoever thing persuadeth men to do evil, and believe not in Christ…then ye may know with a perfect knowledge it is of the devil; (Moro. 7:17)
He also points out in this same verse that those who subject themselves unto Satan persuade no one to do good. This fits communism exactly and the verses in between the two cited furnish a clear warning about the danger.
In my brochure entitled Many are Called But Few Are Chosen, I am attempting to bring to people's attention the fact that the great majority of us are on Satan's side in this battle just by asking a few questions which compare the Communist Manifesto with the Constitution. If I can get it done before I send this letter I will enclose a copy.
One of the more frightening things related in the Book of Mormon concerning the destruction of the Nephite government by the secret combinations is that Satan had such a strong hold upon men that had been high priests in the Church, that they joined in the destruction of government. Notice how angry these former high priests became at the testimony of those who mentioned their sins. (3 Ne. 6:21-30) It also mentions the lawyers and judges but I suppose that is only to be expected because it was their positions and craft that was being threatened. They put these prophets to death secretly the record says.
Nephi prophesies that Satan will stir the people up to anger against that which is good in our day. (2 Ne. 28:20) Also Moroni indicates that the blood of the saints will be shed in our day by these secret combinations. (Ether 8:22)
I am rather firmly convinced that the great deception being practiced upon LDS today largely comes from our socialized educational system. Satan's doctrines are being boldly taught to our children and we are failing in our duty to set them straight.
I have read Moroni's statement in Mormon, Chapter Eight wherein he states every Church has become corrupted and where he says that we Gentiles have polluted the holy church of God. (verses 36, 38) I wonder if he is speaking of our restored Church. What do you think? (Compare this with 2 Ne. 28:9-14.)
Then there is reference to a great division which will take place among the people. (2 Ne. 20:10, compare D&C 63:54) When you get these matters figured out let me know.…(Letter to Ezra Taft Benson, 4/20/1968)
Who considers it either impossible or unlikely that a person can belong to the Devil's organization and Christ's Church simultaneously? The Nephite scriptures provide some interesting information. No one who believes that the Book of Mormon is the word of God doubts that the secret combinations described therein were built up by the devil. The record is most explicit about this fact. But notice in the days of the reign of the judges among the Nephites, that when this secret society came among them, they seduced even the more part of the righteous to join them. (Hel. 6:38)
Then in that period of time immediately preceding the terrible destruction which almost obliterated the Nephite nation, the very people who formed the secret combination which was largely instrumental in killing the prophets and bringing about this awful disaster, included, almost all the lawyers and the high priests. (3 Ne. 6:25)
If the more part of the righteous and almost all the lawyers and the high priests can be deceived, how can anyone feel safe? (Personal notes: Can one belong to the Church of the Lamb and the Church of the Devil at the same time? 1970)