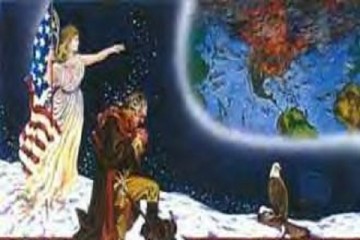 In a time when too many members of the Church say the principles of the Constitution are no longer relevant to a "worldwide Church", I think it is wise to remember the words of a Prophet who, while President of the Church, said:
"I ask for an interest in your faith and prayers as I speak to you about a subject that is very close to my heart and that affects the worldwide Church." (Ezra Taft Benson, Gen Conf Oct 1987)
What was the subject referred to that affects the worldwide Church?  The title of his talk was "Our Divine Constitution".
How could that be?  It is the Constitution of the United States, not the United Nations charter.
The Lord said He established the Constitution to allow His children to live by eternal principles, so that we could act "according to the moral agency" that He gave to us, and so that we could all be "accountable for [our] own sins" (D&C 101:78).  These are not temporary principles, or principles meant for just a few, these are eternal principles for everyone.
Our Father in Heaven also said that any law that is not Constitutional is evil, and that we should "forsake all evil". He further establishes that any law that does not protect "rights and privileges" is unconstitutional and therefore, evil. (D&C 98:5-7, 11)
At this time of year, as we celebrate the independence of the United States, let us remember that the Lord had His hand in the establishment of it, that Nephi saw that the Lord caused the victory of those fighting for independence (which was against "the law") (1 Nephi 13:16-19) and that He (God) sent His mightiest warriors to assure that victory.
"That same angel that appeared unto Joseph Smith (Moroni)… was in the camp of Washington, and by an invisible hand, led on our fathers to conquest and victory" (Elder Orson Hyde JD 6:368)
We must remember that we have a duty and are held accountable to God for continuing that heritage of freedom (D&C 134:1), and that this truly is a subject that "affects the worldwide Church".