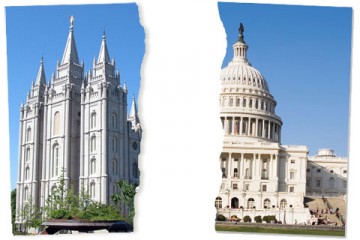 The myth of separation of church and state has been prevalent for over 60 years now.  Hence, I am never surprised to hear it referenced by ignorant, brain-washed, communist-socialist pundits in the public sector; but I am still shocked each time I hear a member of the LDS Church refer to this false doctrine as an authoritative edict banning all political discussion at church or even between members.
The separation of church and state does not exist!  It is an impossible reality!  It is also morally wrong to teach, promote, or enforce as any type of public policy.  Let me explain why.
Jesus Christ is the Most High God.  There are no other gods, principalities, or powers above the Godhead which He represents.  No matter how the Holy Trinity is defined, all Bible believing Christians should agree on that.
So how can so many self-proclaimed Christians keep asserting the separation of church and state – when they profess faith in a God who asserts His authority as the Most High God – if they believe the state is untouchable by the church?  Is the state higher than Christ's church?  Do state and national politics exist in a vacuum where the laws of God no longer apply?  Such seems to be the case according to these individuals.
Within Christ's church we have two priesthoods. In the Great and Abominable Church of the Devil we also have two priesthoods: Priestcraft is the Lesser Priesthood and Statecraft is the Higher Priesthood. Those who promote the separation of church and state clearly endorse and worship the Higher Priesthood within the Church of the Devil.
Either God's law reaches into and touches all aspects of government or it does not.  If it does not, then Jesus Christ is a lesser god, which He definitely is not!
Read your Bible!  How many times did the ancient prophets meddle in politics?  How many individuals, cities, and nations were destroyed as they rejected these prophetic warnings which most certainly interfered in each respective political process?  God has many times irrefutably displayed His interest and authority in politics and government!
By the way, I am still trying to find the phrase, "separation of church and state" in The Constitution of the United States or in one of its Amendments.  Some people have called me daft, so if you can find it for me, please help me out and point it out to me.
Do you realize that every dictatorship in history, which was not a theocracy, has insisted upon the separation of church and state?  Hitler, Lenin, and many other personalities have hyped up this false doctrine as indispensable in good government.  These fabulous extra-villainous personalities in history certainly seem to have almost innumerable modern counterparts, both in and out of the church.  Personally, I would rather side with the prophets of God, such as Ezra Taft Benson, David O. McKay, and Joseph Smith, who clearly taught an opposite doctrine.
For the definitive research on this issue, go to David Barton's website: wallbuilders.com.