If the Book of Mormon events occurred in North America, as Joseph Smith as well as other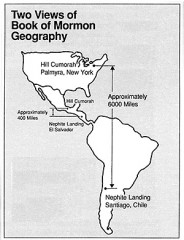 Presidents of the church have indicated 1, does this make other statements by the leadership of the Church inaccurate?  It appears on initial investigation that the early Brethren contradict what some of the later Brethren, particularly during temple dedications, have taught.  Can both be accurate or must we choose?
Could it be that the Lehite remnant was scattered throughout the world in the same way and for the same reasons that other remnants of Israel were dispersed?  Are the answers found in the Book of Mormon itself and through the statements of latter-day prophets, past and present?
A Covenant Land
It is clear from scripture that there is a covenant on the Promised Land of North America. 2 The Nephites were warned that if they did not live righteously on this choice land, they would be scourged, even unto destruction.  In other words, if they broke the Covenant, the Nephite nation would be dissolved.  The prophet Jacob prophesied that this violation of what has been termed "Nephite deed restrictions" would result in the Lamanites possessing the covenant land of America.  Did the Nephites become extinct as a people?
". . .  except ye repent the land is cursed for your sakes; and the Lamanites, which are not filthy like unto you, nevertheless they are cursed with a sore cursing, shall scourge you even unto destruction.

"And the time speedily cometh, that except ye repent they shall possess the land of your inheritance, and the Lord God will lead away the righteous out from among you." (Jacob 3:3–4)
Jacob's prophecy is followed by a thought-provoking statement.  The Lord foretells that He would lead out the righteous from among them (the Nephite nation that would be destroyed).  So, were the Nephites utterly destroyed?  According to the scriptures and the prophets, they were not.  The righteous among the Nephites, before the great destruction, were led out.  Do we see evidence of this?  Lehi in the Book of Mormon, as well as Latter-day prophets of God have taught that a remnant of Lehi's seed, including the descendants of Nephi, were preserved throughout the world.
Lehites Among Nations, Kindreds, Tongues & People
After Nephi and his brothers return from acquiring the plates to their father Lehi in the wilderness, Lehi takes those plates and searches them.  After searching the plates for some time, Lehi is filled with the Spirit and prophecies concerning his seed. He explains that these very plates of brass will someday go forth to "all nations, kindreds, tongues and people who are of his seed."
". . . when my father saw all these things, he was filled with the Spirit, and began to prophesy concerning his seed—

That these plates of brass should go forth unto all nations, kindreds, tongues, and people who were of his seed.

Wherefore, he said that these plates of brass should never perish; neither should they be dimmed any more by time. And he prophesied many things concerning his seed." (1 Nephi 5:17–19)
Elder Bruce R. McConkie taught that the Brass Plates going forth to all nations and people was yet in the future.  He testified that the Lord would yet raise up a prophet, seer and translator to perform this work once the Saints were prepared for additional revelation.
"The perfected Bible of the future will surely include all that was on the brass plates of Laban. Indeed, Lehi prophesied "that these plates of brass should go forth unto all nations, kindred's, tongues, and people who were of his seed. Wherefore, he said that these plates of brass should never perish; neither should they be dimmed any more by time." (1 Nephi  5:18-19)

"More than five hundred years later Alma testified that they should "be kept and preserved by the hand of the Lord until they should go forth unto every nation, kindred, tongue, and people, that they shall know of the mysteries contained thereon," and that they would "retain their brightness." (Alma 37:4–5.)

"Someday the Lord will raise up a prophet, who will also be a seer and a translator, to whom he will give the brass plates that they may be translated for the benefit and blessing of those in all nations." 3
It follows that prophetic statements regarding the seed of Lehi are not evidence for the location of Book of Mormon events.  We can conclude from scripture that Lehi's seed in the Latter-day will be among the nations, kindreds, tongues and people of the world.  The Book of Mormon clearly did not take place in all nations and among all people throughout the world and yet the seed of Lehi has been dispersed.
In addition to the word of scripture, have Latter-day prophets confirmed these teachings?  Have Latter-day prophets made statements indicating that Lehi's seed can be found in many nations and among many kindreds, tongues and people?  It appears that in general the words of the latter-day leadership of the Church is in harmony with the prophecies of ancient Nephite seers.
Statements
There are numerous statements by latter-day prophets which identify Lehi's seed as scattered across the world.  The following are a small sampling.
United States
Lehi's seed among Sac and Fox in Heartland of North America
"I [Joseph Smith] conducted them [Sac & Fox Indians] to the meeting grounds in the grove, and instructed them in many things which the Lord had revealed unto me concerning their fathers, and the promises that were made concerning them in the Book of Mormon. I advised them to cease killing each other and warring with other tribes; also to keep peace with the whites; all of which was interpreted to them." 4
Lehi's seed in Rocky Mountains
"Could we have preached to the Lamanites, if we had staid in Nauvoo? No, we could not; but the people have driven us to a place where we can do much more good, than we could have accomplished by remaining in Nauvoo; they have driven us into the midst of the Lamanites, where we can preach the Gospel unto them." 5
Lehi's seed in Arizona
"We beseech Thee, O Lord, that Thou wilt stay the hand of the destroyer among the descendants of Lehi who reside in this land and give unto them increasing virility and more abundant health, that they may not perish as a people but that from this time forth they may increase in numbers and in strength and in influence, that all the great and glorious promises made concerning the descendants of Lehi may be fulfilled in them; that they may grow in vigor of body and of mind, and above all in love for Thee and Thy Son, and increase in diligence and in faithfulness in keeping the commandments which have come to them through the gospel of Jesus Christ, and that many of them may have the privilege of entering this holy house and receiving ordinances for themselves and their departed ancestors." 6
"Thou didst acknowledge the role of the Lamanite, especially in this temple, and numerous of the sons and daughters of Lehi have found in these sacred precincts peace, knowledge and solace to their souls." 7.
Lehi's seed in Vernal, Utah
"May there come about a reconciliation of feelings between the descendants of Lehi and those who have come to reside in these valleys. May old animosities be dispelled, and may there come a renewed spirit of brotherhood and love and respect." 8
Canada
Lehi's seed in Alberta
"We beseech Thee, O Lord, that Thou wilt stay the hand of the destroyer among the descendants of Lehi, who reside in this land….that all the great and glorious promises made concerning the descendants of Lehi…" 9
Polynesia
Lehi's seed in Polynesia
"It has been the position of the Church that Polynesians are related to the American Indians as descendants of Father Lehi, having migrated to the Pacific from America . . . .Our belief in this regard is scriptural (see Alma 63:4–10)." 10
Japan
Lehi's seed in Japan
According to Alma Taylor's reminiscences of the event [Elder Heber J. Grant's prayer dedicating the land of Japan for missionary work in 1901], Elder Grant "spoke of those who, because of iniquity, had been cut off from among the Nephites . . . and said we felt that through the lineage of those rebellious Nephites who joined with the Lamanites, that the blood of Lehi and Nephi [and of all Israel] had been transmitted unto the people of this land, many of whom have the features and manners of the American Indians, [and he] asked the Lord that if this were true that He would not forget the integrity of His servants Lehi and Nephi and would verify the promises made unto them concerning their descendants in the last days upon this [the Japanese] people for we felt that they were a worthy nation". 11
New Zealand
Lehi's seed in New Zealand
"O God, our Eternal Father, on this significant and hallowed occasion, we unite our hearts and lift our voices in gratitude, praise and honor to Thy Holy name. We express gratitude that to these fertile Islands Thou didst guide descendants of Father Lehi, and hast enabled them to prosper, to develop and to become associated in history with leading and influential nations among mankind."12
"Again, there was something prophetic about it. Here were two great strains of the house of Israel the children of Ephraim from the isles of Britain, and the children of Lehi from the isles of the Pacific." 13
Samoa
Lehi's seed in Samoa
"We are grateful for these beautiful islands of Samoa, and for Thy faithful saints who dwell here. Jacob, son of Lehi, declared anciently: "Great are the promises of the Lord unto them who are upon the isles of the sea." We have witnessed the fulfillment of Thy covenant, for Thou hast not forgotten them." 14
Mexico
Lehi's seed in Mexico City
"When I was in Mexico in 1946, I was dreaming for the people of Mexico. I had a dream of your progress and development. Now this is precisely what I dreamed; this was my vision for the people of the Lamanites. I got up from my bed and wrote my dream. Maybe it was a vision rather than a dream. This is what I wrote: As I looked into the future, I saw the Lamanites from the isles of the sea and the Americas rise to a great destiny. I saw great numbers of Lamanites and Nephites in beautiful homes that have all the comforts that science can afford. I could see you children of Lehi with your herds and flocks on a thousand hills. . . . I saw the church growing with rapid strides, and I saw them organized in wards and stakes. (I think there was not a single stake or ward in all of Mexico when I dreamed this dream.) I saw a temple of God and expect to see it filled with men and women and young people." 15
Guatemala
Lehi's seed in Guatemala
"Thou kind and gracious Father, our hearts swell with gratitude for Thy remembrance of the sons and daughters of Lehi, the many generations of our fathers and mothers who suffered so greatly and who walked for so long in darkness. Thou hast heard their cries and seen their tears. Now there will be opened to them the gates of salvation and eternal life…. We thank Thee for the restored record of our ancestors, the record of Lehi, Nephi and Jacob, of Alma and Mosiah, of Benjamin and Mormon and Moroni." 16
Peru
Lehi's seed in Peru
"We are particularly mindful this day of the sons and daughters of Lehi. They have known so much of suffering and sorrow in their many generations. They have walked in darkness and in servitude. Now Thou hast touched them by the light of the everlasting gospel. The shackles of darkness are falling from their eyes as they embrace the truths of Thy great work. Surely father Lehi has wept with sorrow over his posterity. Surely he weeps today with gladness, for in this holy house there will be exercised the fullness of the priesthood to the blessing, not only of those of this and future generations, but also to the blessing of those of previous generations.
"Bless Thy work that it shall blossom and grow in this nation and in its neighbor nations of South America. Remember, Father, Thine ancient covenant with the children of Lehi that in the latter days Thou wouldst favor them and bring to them a knowledge of their Redeemer. Make them strong in faith and magnify them in leadership in Thy kingdom." 17
Please see the article "Lehite Remnant Found Throughout the World" for a larger sampling.
Without question, statements from the leadership of the Church indicate that Lehi's seed was dispersed among many nations, kindreds, tongues and people.  This appears to be a partial fulfillment of Lehi's prophecy concerning his seed.  While Lehi's seed can be found in many nations, these many nations were not where the Book of Mormon took place.  Again, identifying Lehi's seed in a certain location does not imply that Book of Mormon events occurred in that location.
Israel Among the Nations
The fact that Israel was scattered among all nations does not justify the conclusion that all individuals in all nations are of Israel.  In like manner, statements declaring that there are descendants of Lehi in Japan does not imply that most Japanese are descendants of Lehi.  This is also true for Central and South America.  If the statements by some Church leaders are correct, there are Lehite descendants in Guatemala, but it does not follow that most Guatemalans are Lehites.   Nor does it follow that the Book of Mormon took place in Guatemala.
Some confuse Lehi's seed with the House or seed of Israel.  They conclude that because millions have joined the Church in Latin America that this is evidence that Lehi's seed is numerous in these areas.  The Gospel net is gathering the House of Israel from among the nations. Being of Israel, or an Israelite remnant does not imply that one is necessarily of Lehi's seed.  Other Israelite families were led out from time to time.
Conclusion
Is there a chance that some of the many statements concerning Lehi's seed given by Latter-day leaders are incorrect?  Sure.  Only the Lord is infallible.  But we believe it is unwise to summarily dismiss statements that seem to contradict when there is no justification for such assumptions.  Finally, locating the Book of Mormon lands in the Heartland of North America is in no way a justification for dismissing statements by the leadership of the Church.
Notes:
May, Wayne N. (2002). Prophetic Statements About Geography. Joseph Smith Forum Papers.↩
Meldrum, Rod L. (2012). The Scriptural Basis for the Heartland Model. Joseph Smith Forum Papers. ↩
The Joseph Smith Translation: The Restoration of Plain and Precious Things, pg. 15-16 ↩
Joseph Smith, History of the Church, 4:401 ↩
Parley P. Pratt to Brigham Young, 13 March 1852, in Parley P. Pratt, Autobiography, 368. ↩
Heber J. Grant, Mesa Arizona Temple dedication, 23-26 October 1927 ↩
Spencer W. Kimball, Rededicatory Prayer for the Mesa Arizona Temple, 15–16 April 1975 ↩
Gordon B. Hinckley, Dedication Prayer for the Vernal Utah Temple, 2–4 November 1997 ↩
Heber J. Grant, Dedicatory Prayer for the Cardston Alberta Temple, 26–29 August 1923 ↩
Howard W. Hunter, "Islands of the Pacific," Beneficial Life Insurance Company Convention, Waikokloa, Hawaii, 19 July 1984; cited in Clyde J. Williams, ed., The Teachings of Howard W. Hunter (Salt Lake City: Bookcraft, 1997), 57. ↩
Reminiscences by Alma Taylor of Elder Heber J. Grant's 1901 prayer dedicating the land of Japan to receive the restored gospel, Palmer, Spencer J., and Roger R. Keller. Religions of the World: A Latter-day Saint View. Provo, Utah: Brigham Young University, 1989, p. 91 ↩
David O. McKay, dedication of Hamilton New Zealand temple, 20-22 April 1958 ↩
Gordon B. Hinckley's comment at the dedication of the New Zealand temple upon observing Europeans assembling with the Maoris of the Pacific, "Temple in the Pacific." Improvement Era (July 1958) 61:506–509, 538 ↩
Gordon B. Hinckley, Dedicatory Prayer for the Apia Samoa Temple, 5-6 August 1983 ↩
Spencer W. Kimball, Official Reports of the Mexico City Area Conference of the Church of Jesus Christ of Latter-day Saints, held in the Sports Palace in Mexico City, Mexico, February 13,1977 (Salt Lake City: Church of Jesus Christ of Latter-day Saints, 1978), 31. ↩
Gordon B. Hinckley, Dedicatory Prayer for the Guatemala City Guatemala Temple, 14–16 January 1984 ↩
Gordon B. Hinckley, Dedicatory Prayer for the Lima Peru Temple, 10-12 January 1986