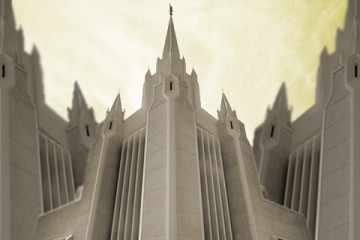 Too often we limit preparing for the Second Coming to buying canned food and reading sensational books on the subject, but leave actually doing things until after the Savior comes again. Church leaders have told us it is time to start building Zion… NOW!
In the October 2008 General Conference, Elder Christofferson gave a talk entitled, "Come to Zion", and Bishop Keith B McMullin gave another entitled, "God Loves and Helps All of His Children".  In those talks, we learn the principles of how to build Zion and what we need to be doing right now.  We do not need to be commanded in all things, we have received the call. (D&C 58:26-28)
In his talk, Elder Christofferson reminds us of the words of the Prophet Joseph Smith when he said, "The building up of Zion is a cause that has interested the people of God in every age; it is a theme upon which prophets, priests and kings have dwelt with peculiar delight; they have looked forward with joyful anticipation to the day in which we live…we are the favored people that God has made choice of to bring about the Latter-day glory"
Zion is both a place and a people.
We learn from the scriptures about the ancient city of Zion called the city of Enoch. This Zion endured for some 365 years (see Moses 7:68). The scriptural record states, "And Enoch and all his people walked with God, and he dwelt in the midst of Zion"
We also learn from the scriptures of a city of Zion to come, where Christ shall reign as "King of Zion," when "for the space of a thousand years the earth shall rest" (Moses 7:53, 64).
Both of these cities called Zion were Zion not because of the sign you read when coming to a new town saying, "welcome to Zion", but because of its people. The Lord called Enoch's people Zion "because they were of one heart and one mind, and dwelt in righteousness; and there was no poor among them" (Moses 7:18). Elsewhere the Lord said, "For this is Zion—the pure in heart" (D&C 97:21).
Elder Christofferson continued, "Under the direction of the Prophet Joseph Smith, early members of the Church attempted to establish the center place of Zion in Missouri, but they did not qualify to build the holy city. The Lord explained one of the reasons for their failure:
'They have not learned to be obedient to the things which I required at their hands, but are full of all manner of evil, and do not impart of their substance, as becometh saints, to the poor and afflicted among them;
And are not united according to the union required by the law of the celestial kingdom' (D&C 105:3–4)…
'There were jarrings, and contentions, and envyings, and strifes, and lustful and covetous desires among them; therefore by these things they polluted their inheritances' (D&C 101:6).
Rather than judge these early Saints too harshly, however, we should look to ourselves to see if we are doing any better.
Zion is Zion because of the character, attributes, and faithfulness of her citizens. Remember, 'the Lord called his people Zion, because they were of one heart and one mind, and dwelt in righteousness; and there was no poor among them' (Moses 7:18). If we would establish Zion in our homes, branches, wards, and stakes, we must rise to this standard. It will be necessary
(1) to become unified in one heart and one mind;
(2) to become, individually and collectively, a holy people; and
(3) to care for the poor and needy with such effectiveness that we eliminate poverty among us. We cannot wait until Zion comes for these things to happen—Zion will come only as they happen."
I think sometimes, we have the mind set that Zion is just something that will happen-it is in the future-we don't really have to worry about it until the Church comes out with a manual and a specific calling for it.
Here though he says we need to establish Zion, here and now, when he gives us those three steps to accomplish the task.  Additionally, in General Conference of April 2006, Elder David R Stone said, "we can build our own Zion by the principles of the celestial kingdom…We can be courageous and can walk in the Lord's paths and follow His footsteps. And if we do, we will be called Zion, and we will be the people of the Lord."
He says we can build Zion, we can, not some future people, but us… today.
I found it beneficial to go over those 3 steps Elder Christofferson laid out for us.
1st: Unity
Elder Christofferson asked, "Are we individually and as a people free from strife and contention and united 'according to the union required by the law of the celestial kingdom'? (D&C 105:4).
We will become of one heart and one mind as we individually place the Savior at the center of our lives and follow those He has commissioned to lead us."
Unity is important, but not just for unities sake.  As Elder Christofferson here points out we must be unified in following the Savior and His admonitions through His servants the Prophets.
2nd: Holiness
Elder Christofferson says regarding holiness, "Much of the work to be done in establishing Zion consists in our individual efforts to become "the pure in heart" (D&C 97:21)"
So again Elder Christofferson reiterates the concept of building that prophesied city of Zion as being something that is up to us, here and now. He then goes on and says, ""Zion cannot be built up unless it is by the principles of the law of the celestial kingdom," said the Lord, "otherwise I cannot receive her unto myself" (D&C 105:5)."
This is the third time Elder Christofferson brings up the "law of the Celestial Kingdom", it must be important.  What is that law?  I'll leave that one for you to study on your own.
Elder Christofferson then points out that "The Savior was critical of some of the early Saints for their "lustful . . . desires" (D&C 101:6; see also D&C 88:121). These were people who lived in a non-television, non-film, non-Internet, non-iPod world. In a world now awash in sexualized images and music, are we free from lustful desires and their attendant evils? Far from pushing the limits of modest dress or indulging in the vicarious immorality of pornography, we are to hunger and thirst after righteousness. To come to Zion, it is not enough for you or me to be somewhat less wicked than others. We are to become not only good but holy men and women. Recalling Elder Neal A. Maxwell's phrase, let us once and for all establish our residence in Zion and give up the summer cottage in Babylon."
Regarding hindrances to our holiness as a people, President Joseph F. Smith, a prophet of the Lord, warned that "there are at least three dangers that threaten the Church within." (Gospel Doctrine, p. 312.) These dangers are:
Flattery of prominent men in the world,
False educational ideas,
Sexual impurity.
Commenting on the flattery of prominent men in the world, President Ezra Taft Benson warned, "In the hour of a man's success, applause can be his greatest danger.  There is, of course, nothing wrong with being honored by men if one is being honored for a good thing, if one comes to these honors through righteous living, and if, while holding these honors, one lives honorably. One should strive to have wide influence for good…  The time is fast approaching when it will require great courage for Latter-day Saints to stand up for their peculiar standards and doctrine—all of their doctrine, including the more weighty principles…" Gen Conf Oct 1964
FALSE EDUCATIONAL IDEALS
I wont get into specific false educational ideals, but I would like to share these words of encouragement regarding how to combat them by President Benson when he said, "Parents, stay close to your children; you cannot delegate your responsibility to the educators no matter how competent they may be. Parents have a duty to train their children, to talk over their problems with them, to discuss what they are learning at school. And it is neither wise nor safe to leave the determination of our educational system and policies exclusively to the professional educators." Gen Conf Oct 1964
The third threat to our holiness as a people according to President Joseph F Smith is sexual impurity. In the same I talk I quoted from above, President Benson addresses this issue as well.  He touches on some things that apply to youth as well as the rest of us, but for today, I will stick to the more universally applicable points.  He says, "So garbled in values have our morals become that some youth would not dare touch a cigarette, but freely engage in petting. Both are wrong, but one is infinitely more serious than the other… May I suggest some steps to avoid the pitfalls of immorality:
1. Avoid late hours and weariness
2. Keep your dress modest.
3. Have good associates or don't associate at all.
5. Have a good physical outlet of some sport or exercise.
6. Think clean thoughts. Those who think clean thoughts do not do dirty deeds. "As [a man] thinketh in his heart, so is he." (Prov. 23:7.)
7. Pray. There If you are engaged in things where you do not feel you can pray and ask the Lord's blessings on what you are doing, then you are engaged in the wrong kind of activity."
In keeping with the admonition of becoming holy as a prerequisite for building Zion now, I have found the following general rule very instructive;
President George Q. Cannon said, "If the breach is daily widening between ourselves and the world . . . we may be assured that our progress is certain, however slow. On the opposite hand, if our feelings and affections, our appetites and desires, are in unison with the world around us and freely fraternize with them . . . we should do well to examine ourselves."
These things have led me to ask myself, "What do I need to do be holy and to give up that summer cottage in Babylon?"
3rd: Caring for the Poor
Elder Christofferson here brings to our attention the scripture which states, "For the earth is full, and there is enough and to spare; yea, I prepared all things, and have given unto the children of men to be agents unto themselves."
We learn here that the Lord has provided us with everything we could possibly need, but leaves it up to us as to we will take advantage of those blessings.  In this scripture the Lord then says, "Therefore, if any man shall take of the abundance which I have made, and impart not his portion, according to the law of my gospel, unto the poor and the needy, he shall, with the wicked, lift up his eyes in hell, being in torment (D&C 104:17–18; see also D&C 56:16–17)."
This brings me to one of the things that Bishop Keith B McMullin points in his talk in regards to our blessings, quoting the Prophet Joseph Smith, "A man filled with the love of God, is not content with blessing his family alone, but ranges through the whole world, anxious to bless the whole human race."
When we truly love God, when we are blessed with the fullness of the earth, we want to bless the lives of others.
Elder Christofferson makes the point, "We might ask ourselves, living as many of us do in societies that worship possessions and pleasures, whether we are remaining aloof from covetousness and the lust to acquire more and more of this world's goods. Materialism is just one more manifestation of the idolatry and pride that characterize Babylon. Perhaps we can learn to be content with what is sufficient for our needs."
A statement that I think magnifies this point was made by President Hinckley in the October 1991 General Conference. He said, "If we are to build that Zion of which the prophets have spoken and of which the Lord has given mighty promise, we must set aside our consuming selfishness. We must rise above our love for comfort and ease, and in the very process of effort and struggle, even in our extremity, we shall become better acquainted with our God."
The above does not only apply to those that have been blessed with the fullness of the earth.  The Lord said in Doctrine and Covenants 42:42 "Thou shalt not be idle; for he that is idle shall not eat the bread nor wear the garments of the laborer."  When we are in need of a portion of the fullness of the earth, we must work for them
President Howard W Hunter taught us what happens when those that have "the abundance of the earth", and those in need do not live according to the Lords way of providing when he said, "If man will not recognize the inequalities around him and  voluntarily, through the gospel plan, come to the aid of his brother, he will find that through "a democratic process" he will be forced to come to the aid of his brother. The government will take from the "haves" and give to the "have nots." Both have lost their freedom. Those who "have," lost their freedom to give voluntarily of their own free will and in the way they desire. Those who "have not," lost their freedom because they did not earn what they received. They got "something for nothing," and they will neither appreciate the gift nor the giver of the gift.  Under this climate, people gradually become blind to what has happened and to the vital freedoms which they have lost."
Regarding the Lords way of caring for those in need, Bishop Keith B McMullin points out in his talk, "The Church welfare plan embodies this divine pattern, and faithful Church members follow it. The Church welfare plan is God-inspired. Its tenets are fundamental to the salvation of man.It is an ensign for service, a witness to the world that the Church of Jesus Christ has been restored… President Thomas S. Monson has said: 'Welfare principles . . . do not change. They will not change. They are revealed truths.'"
What are some of those revealed welfare principles?
President Benson taught, "Let me restate what is a fundamental principle. Individuals, to the extent possible, should provide for their own needs. Where the individual is unable to care for himself, his family should assist. Where the family is not able to provide, the Church should render assistance, not the government. We accept the basic principle that 'though the people support the government, the government should not support the people.'" – General Conference April 1977
It is vital that those that have been blessed with the fullness of the earth as well as those that are in need, apply these revealed principles if we are to build Zion.  Elder Christofferson said, "In much of the world, we are entering upon unsettled economic times. Let us look after one another the very best we can."
Become one as a people
Be holy
Eliminate poverty among us
Those are the three key elements that we can all do to help build Zion, here-today.
President Christofferson closed by saying, "The Prophet Joseph smith said, We ought to have the building up of Zion as our greatest object' In our families and in our stakes and districts, let us seek to build up Zion through unity, godliness, and charity, preparing for that great day when Zion, the New Jerusalem, will arise."
Let's get to work!