The Book of Mormon tells the story of Gadianton robbers infiltrating a system of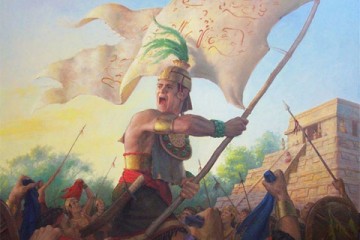 government that began as a free society, yet through secret oaths and the wickedness of the people deteriorated into a system of legalized plunder, and warped justice.
So entrenched was the crutch of government interference, and so extensive was the destruction of the proper role of government as prescribed by Mosiah, Alma and others who were the "Founding Fathers" of the people's original freedoms, that Helaman (5:3) describes a people which, "…could not be governed by the law nor justice, save it were to their destruction."
Amulek declared to the people at Ammonihah, "For behold, have I testified against your law? …ye say that I have spoken against your law; but I have not, but I have spoken in favor of your law, to your condemnation." (Alma 10:26)
The year of Amulek's profound statement was 82 B.C., and government corruption was in its infancy.  After previously being rejected by the people in that city, Alma was told by an angel to go back and witness again to the people, explaining "For behold, they do study at this time that they may destroy the liberty of thy people, (for thus saith the Lord) which is contrary to the statutes, and judgments, and commandments which he has given unto his people." (Alma 8:17)
Yet fifty years later, after a surge of Gadianton influence, Helaman describes that:
"…Nephi delivered up the judgment-seat to a man whose name was Cezoram.  For as their laws and their governments were established by the voice of the people, and they who chose evil were more numerous than they who chose good, therefore they were ripening for destruction, for the laws had become corrupted. Yea, and this was not all; they were a stiffnecked people, insomuch that they could not be governed by the law nor justice, save it were to their destruction." (Helaman 5:1-3)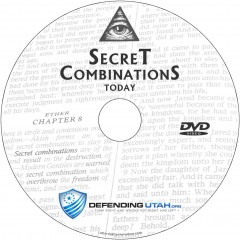 The reason for the Book of Mormon coming to America in our time is because the book's history has now repeated.  The prophets Mormon and Moroni saw our day and selected the stories, teachings, and principles that would most apply to us.  This is why Moroni said, "when ye shall see these things come among you that ye shall awake to a sense of your awful situation, because of this secret combination which shall be among you; or wo be unto it, because of the blood of them who have been slain; for they cry from the dust for vengeance upon it, and also upon those who built it up." (Ether 8:24)
As Latter-Day Saints, do we care about politics?  Are we awake, up and doing?  Or do we not understand what the proper role of government even is?  If we are NOT awake, are we part of those who "build it up?"  Is it too much of a stretch to assume that if we are not involved in restoring the proper role of government then we are part of the problems the  Book of Mormon warned us against, with the "blood of them who have been slain" staining our own souls?
As Latter-Day Saints, are we satisfied, politically, with accepting the lesser of two evils?  If so, reason would suggest that we will be accountable for the lesser part of the bloodshed of our day.  Are you content with this?
In today's welfare state, America stands for the mentality of getting all the free stuff and assistance you can, and then canning all you get.  It was Shelby Richman in his forward to Bastiat's "The Law" who said:
A society based on a proper conception of law would be orderly and prosperous.  But unfortunately, some will choose plunder over production if the former requires less effort than the latter.  A grave danger arises when the class of people who make the law (legislation) turns to plunder.  The result, Bastiat writes, is "lawful plunder."  At first, only the small group of lawmakers practices legal plunder. But that may set in motion a process in which the plundered classes (LDS?), rather than seeking to abolish the perversion of law, instead strive to get in on it.
This describes nearly perfectly the seduction that took place in the Book of Mormon when, "the Nephites did build them (Gadianton robbers/politicians) up and support them, beginning at the more wicked part of them, until they had overspread all the land of the Nephites, and had seduced the more part of the righteous until they had come down to believe in their works and partake of their spoils, and to join with them in their secret murders and combinations." (Helaman 6:38)
When registered voters walk into their respective voting booths this November, they will be professing their religion in a most profound way.  It has been said that politics is "rubber meets the road Christianity," and well it is.  As H. Verlan Andersen  has explained numerous times (i.e. his book Great and Abominable Church of the Devil), nowhere else can an average citizen apply their decision to be involved in the taking of life, liberty, and property than through the principles and "code" their affirmed candidates espouse.
The voting booth allows the voter to "join" with a candidate in his struggle to restore the original intent of our Founding Fathers, or allows the voter to "join with them in their secret murders and combinations."
So the pivotal question before a person signs their name and "joins" with a candidate on the work he or she will perform is, am I being seduced?
It is my conviction that the intent of the 2-party duopoly is to do just that.  The Book of Mormon is a warning to America.  The book resoundingly proclaims to all who will hear, "don't make these same mistakes!  Don't be seduced!  Awaken to your awful situation!"
The "freedom of all lands, nations, and countries" are at stake (see Ether 8:25).  Believers in the Book of Mormon shouldn't accept the con that voting to slow down our destruction is success.  Our mission, woven in the stories and messages of the Book of Mormon, is clear.
"Wherefore, honest men and wise men should be sought for diligently, and good men and wise men ye should observe to uphold; otherwise whatsoever is less than these cometh of evil." (D&C 98:10)
In the words of Ezra Taft Benson:
"The only questions, before the final victory, are, first, 'What stand will each of us take in this struggle?' and second, 'How much tragedy can be avoided by doing something now?… To the patriots I say this: Take that long eternal look.  Stand up for freedom, no matter what the cost."