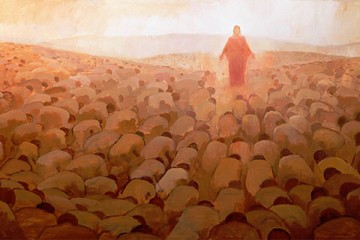 Much has been said in suggesting solutions to the challenges we are facing with immigration.  I would like to offer a biblically inspired, constitutionally compatible, real solution; as well as a few prophetic insights at the end.
First of all, we need to define who the enemy is not.  The enemy is not the Hispanics, in or out of the United States, legal or otherwise.  The enemy is not any ethnicity or nationality.
The enemy is the current system which encourages illegal immigration, crime, fraud, bankrupt socialism, and animosity between misunderstood parties of people.  In short, the enemy is our own government.
Let's face it.  We are all human beings.  We are all children of our Father in Heaven.  We are brothers and sisters who have equal claim upon the blessings of our Father in Heaven as conditional upon our faith and obedience to His laws.  The riches of his earth belong to all of God's children according to their industry.  Individuals and governments do not own the earth, they are guardians and stewards.  Those who wish to immigrate have a right to do so; especially when immigration becomes a mortal necessity.
We are all in the same boat.  We all want the same things: peace, happiness, posterity, prosperity, and the secured rights of life, liberty, property, and the pursuit of happiness.
Actually, maybe that's not entirely true.  I keep stumbling across liberals and neocons who seem all too willing to give up these rights in exchange for security and forced equality.  But without the protection of these rights, these people will soon be eliminated anyway—so I'm not going to worry about them.
Anyhow, the bottom line is that all sane people (those who are not suicidal, who care about protecting their rights) want the same things, as previously mentioned.
Those who are unable to get what they feel they need where they live, have no other option than to move or to immigrate.  Where ones right to life is threatened, it becomes a matter of survival to immigrate, if possible. If it becomes impossible to provide the necessities of life because ones right to property is denied, immigration may likewise become necessary as a precaution for survival.
In Book of Mormon times, the Nephites and Lamanites enjoyed an open border policy.  Especially in times of peace, they had free intercourse one with another, to buy and sell, trade, and settle according to their desires (Helaman 6:8).  They did not worry about defending their borders except in times of war.
National, state, and municipal borders are a necessity for establishing legal jurisdictions.  When one crosses a border, different laws are in effect and different government agents have jurisdiction.
In times of war, borders are justifiably secured.  In times of peace they should remain monitored, but open.
Immigrants who break the law, who are not productive, who parasitically plunder the system, who refuse to naturalize, these should be prosecuted and sentenced according to the laws of the land, and as necessary deported back to their countries of origin.  Immigrants who have been deported because of their crimes, who return and commit serious crimes again, these should be executed according to the laws of the land.
When laws are passed which make it difficult to immigrate legally, desperate people will still feel they have no choice but to immigrate anyway, legal or not, for their own safety and wellbeing.
I have known and loved many people who have come into this country "illegally".  They are my brothers and sisters.  They are good, respectable people.  I cannot condemn them for what they have done.  If I were in their shoes, I would do the same.
A big part of the problem we are facing is Socialism in America.  The forced redistribution of wealth is patently unconstitutional, unethical, obstructive to prosperity, and is a violation of mankind's rights to life, liberty, and property—all three are interconnected.  We have no reason to resent "illegal immigrants" who draw on the unethical benefits of Socialism any more than we have reason to resent "legal parasites" who do the same.  The problem here is not immigration, legal or otherwise, the problem is Socialism.
Many people do not realize that most "illegal immigrants" pay taxes just as we do.  Their employers pay taxes on their labors.  The immigrants also pay taxes even if their social security numbers are fraudulent.  They are paying into the system and increasing the national product.  The vast majority of these people would far rather do everything openly, pay their taxes properly, and live above board.  If individuals choose not to pay their taxes, it is because they are dishonest, not because they are "illegal immigrants".
Additionally, most "illegal immigrants" are very hard working, law abiding, careful citizens.  They pay their bills on time (because they have to), they stay out of dept (because they have to), and they do everything as correctly as possible in order to stay out of trouble.
They also do all they can to care for their own.  They love their families and work hard to support them.  They save all they can to help their family and friends immigrate who have not been able to do so.  These are good people who have a lot to contribute to life and society in America.
Of course, immigrants who do not keep the law, who do not work to provide for themselves, and who are hostile to America and to the republic should be deported.  As to the rest of them, we should welcome them with open arms.
We need to fix the system, not chop off heads or send them packing back to their homelands.
The issue of illegal immigrants abusing our socialistic programs has nothing to do with immigration; it has everything to do with Socialism, which never should have been and needs to be abolished.
The issue of illegal immigrants who commit crime has nothing to do with immigration.  It has everything to do with law enforcement, our legal system, and of how we prosecute criminal offences.  Obviously, those who commit crimes, legal or illegal, should be disciplined and punished accordingly, even to the extent of execution or deportation, as necessary.  These are biblically consistent principles (per the Law of Moses, the Book of Mormon system of judges, etc…).  To say our horrific crime statistics are caused by illegal immigration is just as unfair as saying all Blacks are murders and all Hispanics are thieves, just because a few of them are, just as some Whites are too.  This kind of bigotry needs to end.
The issue of illegal immigrants who work for drug cartels, has nothing to do with immigration; it has everything to do with a "war on drugs" which is actually a "war for drugs" administrated by our own government in order to finance certain illegal activities which cannot receive funds appropriated by congress which would require congressional oversight.
The issue of globalists using illegal immigration as a tool to dissolve national borders and destroy national sovereignty has nothing to do with immigration; it has everything to do with globalist conspiracies and secret societies combined to overthrow the liberty of all lands.  By all means, attack the globalists; throw out the Socialists, Fascists, and Communists; but do not lay this evil at the feet of those poor souls who simply want to immigrate to a land of greater liberty and opportunity.
If we think immigrants are ignorant and are supporting bad political policy, then we should take steps to educate them properly.  Most of these are humble people who are willing to learn anything they can about how to be law abiding, prosperous, happy people.  They want to learn from us.
It is time for all of us, as Christians, to reach out and extend the olive branch to our brothers and sisters throughout the world who simply love what America stands for, who want to come here.  They deserve our love, our respect, our friendship, and our support.
As Latter Day Saints, we should be offering to the world the Everlasting Gospel, which includes the Law of Liberty.  As the kings and queens spoken of in Isaiah, we should reach out to these people, assist them, draw them in, love them, place them upon our shoulders and carry them.  These are the people who will build ZION, even gathered Israel; and some day it will be our privilege, if we are faithful, to assist them in building that Holy City.